Duct tape uses are incredibly diverse and span across various industries.
This adhesive powerhouse is far more than a simple tool for quick fixes.
The versatility of duct tape uses makes it an essential item in every home, office, or toolbox.
No matter the challenge at hand – be it minor repairs or creative crafts – duct tape often comes to the rescue.
Today, we're focusing on a versatile tool that deserves a spot in every homeowner's toolkit – red duct tape.
Its role in quick fixes and creative solutions is undeniable, and we're excited to explore its applications. Whether you're a DIY enthusiast or just looking to tackle common household issues, keep reading to discover how red duct tape can be your handy helper in various situations.
The History and Evolution of Duct Tape
Originating from the challenging times of World War II, duct tape was initially designed to seal ammunition boxes. Its original name – "duck tape" – emerged due to its water-resistant properties and use of cotton duck fabric.
This robust adhesive invention is credited to Vesta Stoudt, an industrious factory worker who identified the need for a durable sealant that could withstand severe conditions. Her foresight paved the way for what we now recognize as one of today's most versatile tools.
Intriguingly, it wasn't always known by its current moniker. The initial naming convention stemmed from the material used in production: cotton duck cloth – a heavy woven fabric offering durability and resistance against moisture, making it ideal during World War II military applications.
Over time, this resilient tool found uses beyond battlefields or factories, leading to its evolution into 'duct' tape due to application within air ducts, among other things.
As we move on towards exploring practical uses around your home or office space next up, you'll see why keeping such handy equipment can prove beneficial.
Practical Uses for Duct Tape in Home Repairs and Maintenance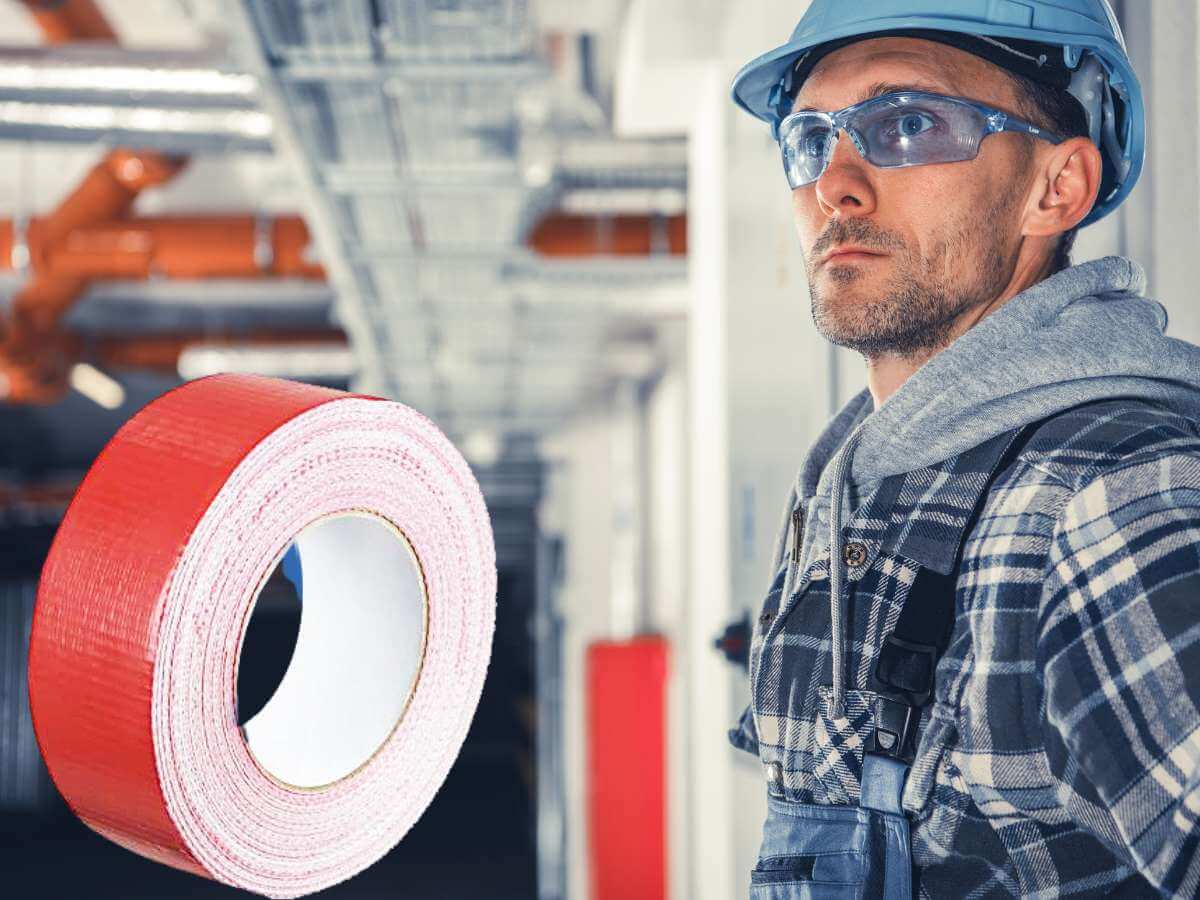 Duct tape, famed for its adaptability, can be utilized in numerous approaches to mend and maintain the home or workplace. Its waterproof nature makes it perfect for mending air ducts or vinyl siding tears.
Duct Tape for Quick Fixes
A simple application of duct tape can salvage cracked water bottles, while wrapping a long piece around sprained ankles could provide temporary relief during camping trips. It also proves handy when dealing with broken tent poles – just wrap some sticky duct tape around them. Additionally, you'll find this adhesive helpful for removing splinters and warts.
Duct Tape Crafts
The creative use of duct tape began when people started realizing its potential beyond mere repairs. With an array of colors available today, crafting roses from these adhesive strips is not uncommon.
Further expanding on its uses, consider using it as an impromptu lint roller to clean your winter boots or open stubborn jar lids by simply wrapping the lid with this army green solution and giving it a firm twist.
As we further discuss this versatile tool, let's delve deeper into understanding why such simplicity carries so much strength – exploring the science behind its adhesive power.
Unraveling the Adhesive Power of Duct Tape
The adhesive strength that makes duct tape a household staple is attributed to its rubber-based composition. This type of adhesive forms strong bonds with various materials, including metal, plastic, fabric, and wood.
Beyond just being sticky, the tear-resistant properties provided by the cloth backing make this tool incredibly versatile. It's designed for durability and heavy-duty repairs – try tearing apart a piece of duct tape yourself if you need proof.
Diving Deeper into Rubber-Based Adhesives
But what exactly gives these adhesives their sticking power? The answer lies in molecular interaction. When two surfaces meet – like when you stick your duct tape onto something – forces between molecules on each surface cause them to attract toward one another.
This attraction results in adhesion or stickiness. And because these intermolecular forces are particularly robust in rubber-based adhesives used within products such as our trusty roll of duct tape, they can withstand strain or pressure remarkably well.
Moving Forward: Emergency Uses Of Duct Tape
In our next section, we will explore how this small but mighty tool has proven invaluable during unexpected situations. We'll explore some emergency uses where having a roll handy, could potentially be lifesaving.
Using Duct Tape as an Emergency Tool
Despite its humble appearance, duct tape is a small piece of equipment with immense utility. Its versatility shines through in emergencies such as hiking or dealing with pesky flies at home.
Tackling Pests Effectively
Pest control can be simplified by leveraging the sticky properties of duct tape. By wrapping small strips around areas where pests are common and positioning them sticky side outwards, bugs get trapped, preventing further infestation. This method is particularly effective against annoying flies congregating in certain spots.
Quick Fixes on The Go
The scope of duct tape extends beyond pest control; it offers temporary solutions for unexpected problems. For instance, applying short strips over holes in window screens or door screens provides interim fixes until proper repair can be done.
If you find yourself outdoors with a broken fishing pole while on an excursion – fear not. Wrapping duct tape securely around the breakage will have your line back in the water swiftly.
Moving forward, we delve deeper into some unconventional uses this modest adhesive has been put to use.
Unconventional Uses of Duct Tape
Duct tape has found its way into unconventional applications. For instance, it can serve as an emergency bandage to protect minor cuts or wounds from moisture due to its waterproof properties.
In pet care, duct tape is useful in creating an impromptu leash when you're caught without one by wrapping the sticky side inward around itself multiple times until the desired length is achieved – voila. A sturdy temporary solution is born.
An interesting yet effective use lies within personal health is applying duct tape over hard-to-reach splinters followed by gentle peeling, which often results in the painless removal of these irritants.
Gardening Applications
The horticulture industry also sees value in this handy product, with gardeners using it to support broken plant stems during their healing process. This practice helps ensure that plants continue growing optimally despite the physical damage incurred.
Emergency Situations
A more serious application comes into play during emergencies such as being locked out of your car and needing safe window breakage: placing strips on glass before shattering prevents dangerous scattering. These examples show that keeping a roll at hand could be surprisingly beneficial.
FAQs
What is duct tape used for?
Duct tape is primarily used for sealing, binding, and repairing due to its strong adhesive properties. It's also handy in emergencies, such as fixing broken items or serving as temporary patches.
What are five uncommon uses for duct tape?
Duct tape can be creatively used to catch flies, remove warts, open stubborn jar lids, create crafts such as roses and decorative items, and even serve as a makeshift lint roller.
What are ten things you can do with duct tape?
You can use duct tape to fix glasses or water bottles, wrap sprained ankles, repair tent poles during camping trips, make crafts, patch holes in window screens or door screens, trap bugs at home, serve as temporary roof shingles on hikes, and more.
Conclusion
So, you've journeyed through the versatile world of duct tape uses.
We started with its fascinating history – from World War II ammunition boxes to today's handy household tools.
You discovered how this adhesive marvel can fix broken items, catch flies, and even serve as a makeshift lint roller or jar opener.
We delved into the science behind its remarkable stickiness and tear-resistant properties.
Duct tape also emerged as an emergency hero in hiking trails or for quick pest control at home.
Who knew that it could provide temporary fixes for window screens or even act as temporary roof shingles?
In essence, whether it's about maintenance tasks at home or office repairs – there's hardly anything that a roll of duct tape can't handle!
Are you ready to tackle household issues with the ultimate tool – red duct tape? Put your newfound knowledge to the test. And when it's time to give your swimming pool the care it deserves, remember that Aquaguard 5000 has your back with tailored solutions. Explore our offerings and take your pool maintenance to the next level!