Making the decision to buy an above-ground pool is an important one. Overall, above-ground pools are a great investment for a lot of families. They are cost-effective, transportable, and don't require nearly as much space or commitment to your backyard as an inground pool.
Once you make the decision to get an above-ground pool, it is important to make sure that you have everything you need.
Why Get Above Ground Pool Accessories?
There are three important things to consider when accessorizing your above ground pool
Pool Maintenance
While an above-ground pool certainly requires less attention and upkeep than an inground pool, there are still some maintenance needs that you need to consider.
Most notably, the importance of keeping the water clean. Since an above-ground pool is effectively standing water it will accumulate dirt, leaves, bugs, and mold. No one wants to swim in that.
Some examples of accessories that help facilitate pool maintenance include:
Automatic Pool Cleaners – It is important to keep the pool clean but rarely do people make the time. These are great because they are self-regulating and filter out anything you don't want out of the pool
Liners – While they seem basic, liners are critical to maintaining a pool. Liners can help keep the water in the pool rather than slowly escaping out and leaking into your yard
Cover – These are essential for keeping animals and bugs out of your pool when you are not using the pool
Skimmers – It is important to get a skimmer because they help to scoop out anything that needs to be cleaned out of the water that cannot be filtered out by an automatic pool filter.
Water Circulation – Since an above-ground pool will be sitting out for an entire season, or longer, it's important that the water is properly circulated. As mentioned before, circulating the water is essential to owning a pool. This is less of an accessory that you could opt-out of and more of a must-have item.

Filter and Pump System
The single best way to circulate the water is to invest in a filter and pump system. This will help to filter out any unwanted dirt or other substance from the pool. Keeping the water well circulated is vital to having a positive above ground experience
Safety Needs
The last thing to consider when purchasing accessories for your pool is safety.
When it comes to pool safety it is essential for all families to make smart and informed decisions about their safety needs. In an effort to reduce the risk for pool-related injuries as much as possible, it is critical to get any and all accessories that maximize pool safety.
Here are some of our most important accessories to consider for pool safety:
Pool Ladders: The ability to get in and out of the pool without injuring yourself or anyone else is important and pool ladders. Find one that fits your pool and make sure it is installed correctly.
Floatation Devices: For the smaller people in your family, it might be wise to consider flotation devices for anyone who cannot comfortably stand upright in the pool.
Heaters: While it might sound like a luxury accessory, heaters are very important to keep the pool at a temperature that is comfortable and safe. Especially for people who live in places that have colder seasons, this might be a necessity.
Pool Lights: If you plan to do any late-night swimming, consider pool lights so that people can safely navigate the pool
Covers: While covers are great at keeping the pool clean when it's not in use, they can also safely keep others out of the pool when no one is supervising. Covers provide a dual-use for your above-ground pool by keeping the water clean and unwanted/unsupervised swimmers out of the pool.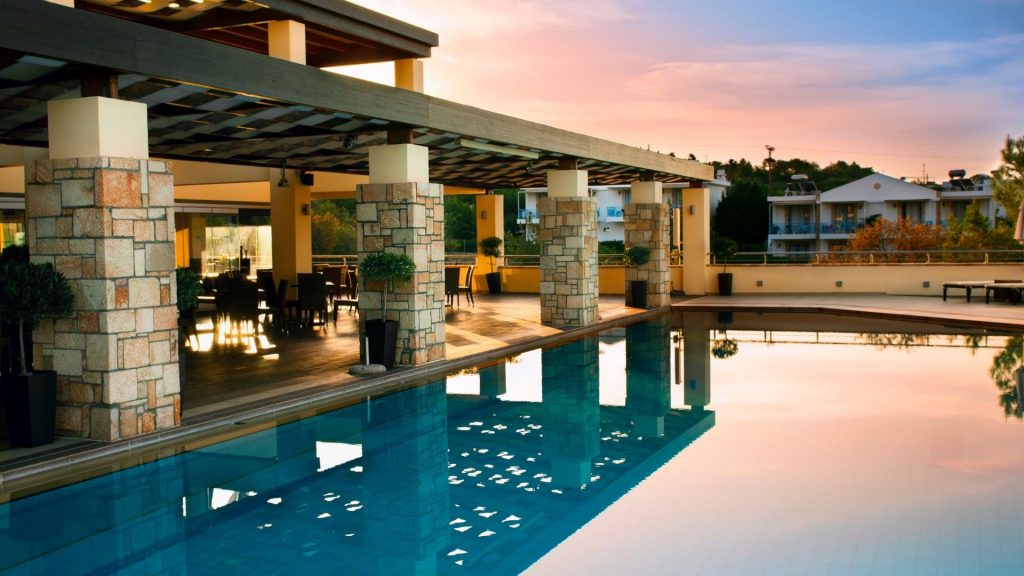 List of Essential Above Ground Pool Accessories
With so much to consider when accessorizing your pool, it can be helpful to have a list of what accessories are available. Below you will find our shopper list of what the essential above-ground pool accessories are and what function they serve.
Automatic Pool Cleaner
Cleans the pool automatically
Cover
Pool Maintenance/Safety
Prevents things from entering the pool when the pool is not in use
Filter and Pump Systems
Water Circulation
Filters the water to keep the pool clean and circulate the water
Flotation Devices
Safety
Helps prevent drowning
Heaters
Safety
Keeps the pool at a safe and comfortable temperature
Liners
Pool Maintenance
Prevents water from leaking out of the pool
Pool Ladders
Safety
Allows swimmers to safely enter and exit the pool
Pool Lights
Safety
Keeps the pool well lit for any nighttime swimming
Pool Maintenance
Used for scooping up any unwanted debris in the pool
Investing in a pool for you and your family is a great way to enjoy your backyard. The accessories that you choose to outfit your pool with can help make sure your pool experience is safe, clean, and well maintained so that you can enjoy your pool for years to come.