Ever stood on the edge of a sparkling pool, your toes curled around cool tiles? That's where we're starting.
You know that satisfying feeling when you dive in, and everything is just… perfect. The temperature of the liquid is not too extreme, neither scalding nor frigid. It's crystal clear and free from leaves or bugs. That's not by chance, but because someone put effort into maintaining it.
We're about to jump headfirst into the world of weekly pool maintenance! Think testing water quality, cleaning filters, vacuuming floors – all that jazz to keep your swimming oasis at its best.
This journey will help make sure every swim is as good as it gets! Ready to take the plunge?
Establish a Regular Cleaning Schedule
Maintaining the crystal-clear allure of your pool isn't an occasional job; it's all about consistency. A well-kept swimming pool is the result of regular cleaning and maintenance.
The Role of Routine in Pool Maintenance
A steady routine helps keep problems at bay before they escalate into larger issues. But, just like maintaining a car or house, consistency is key when it comes to pool care.
Dedicate specific days each week for various tasks, such as checking water quality or vacuuming the floor. By committing to a regular routine, you can reduce the risk of missing out on any vital steps.
Tips for Developing Your Weekly Cleaning Plan
To get started with establishing your weekly schedule, divide tasks based on their frequency requirements:
Skimming: This should be done daily to remove leaves and other debris floating on the surface before they sink and become harder to remove.
Vacuuming & Brushing Walls/Floor: Depending on use and location, aim for once per week to help prevent algae buildup.
Cleaning Filters: Cartridge filters need cleaning every two weeks, while sand/D.E filters can go up three months between cleanings.
Leverage Technology To Stay On Track
With the busy lives we lead, remembering to stick to a schedule can be challenging. Consider using pool maintenance software, which lets you set reminders for different tasks and helps ensure your pool stays sparkling clean.
Key Takeaway:
Consistency is the secret sauce to keeping your pool crystal clear. Develop a weekly cleaning plan, breaking down tasks like skimming daily and vacuuming weekly. Don't forget regular filter cleanings. To make sure you stay on track, consider using pool maintenance software for reminders. Remember, consistent effort now saves time and stress later.
Test the Water Quality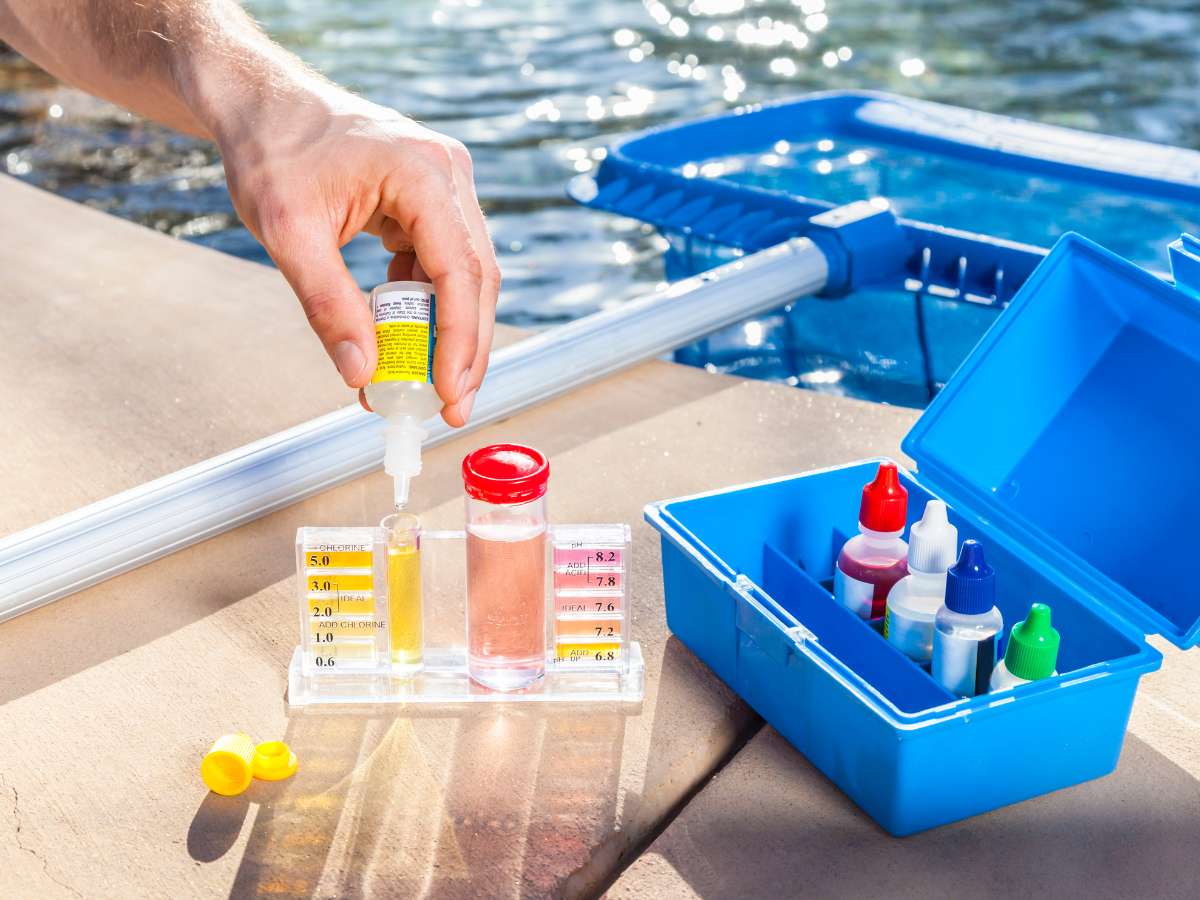 Maintaining perfect water quality is like hitting a moving target, but with some help and regular checks, you can keep your pool safe for swimming. One crucial step is to test the pH, alkalinity, and chlorine levels regularly.
The CDC recommends a pH level of 7.2 to 7.8 in order to protect the pool from damage and prevent skin irritation. But why does this matter?
Think of it like baking bread: if you use too much or too little yeast (or in our case – chemicals), things don't turn out as expected. You get something quite different than what was intended: an unswimmable mess instead of crystal-clear waters.
pH Levels
To measure your pool's pH levels effectively, consider using litmus paper tests or digital testers available at most home improvement stores. Regularly testing will ensure your swimmers won't feel discomfort due to imbalanced water chemistry.
Alkalinity
If balancing pH seems important, then keeping tabs on total alkalinity doesn't fall far behind either. It helps stabilize the all-important pH balance which makes it another must-check factor during weekly maintenance. Sciencing explains more about this process here.
Chlorine Levels
Last but not least, let's talk about chlorine. This powerful disinfectant is what keeps your pool water sparkling clean and free from harmful bacteria. It's like the knight in shining armor for your pool. Just make sure to keep its levels between 1-3 ppm (parts per million).
Just keep in mind: Getting the balance right between these three elements is key to ensuring a safe swimming experience.
Clean the Pool Filter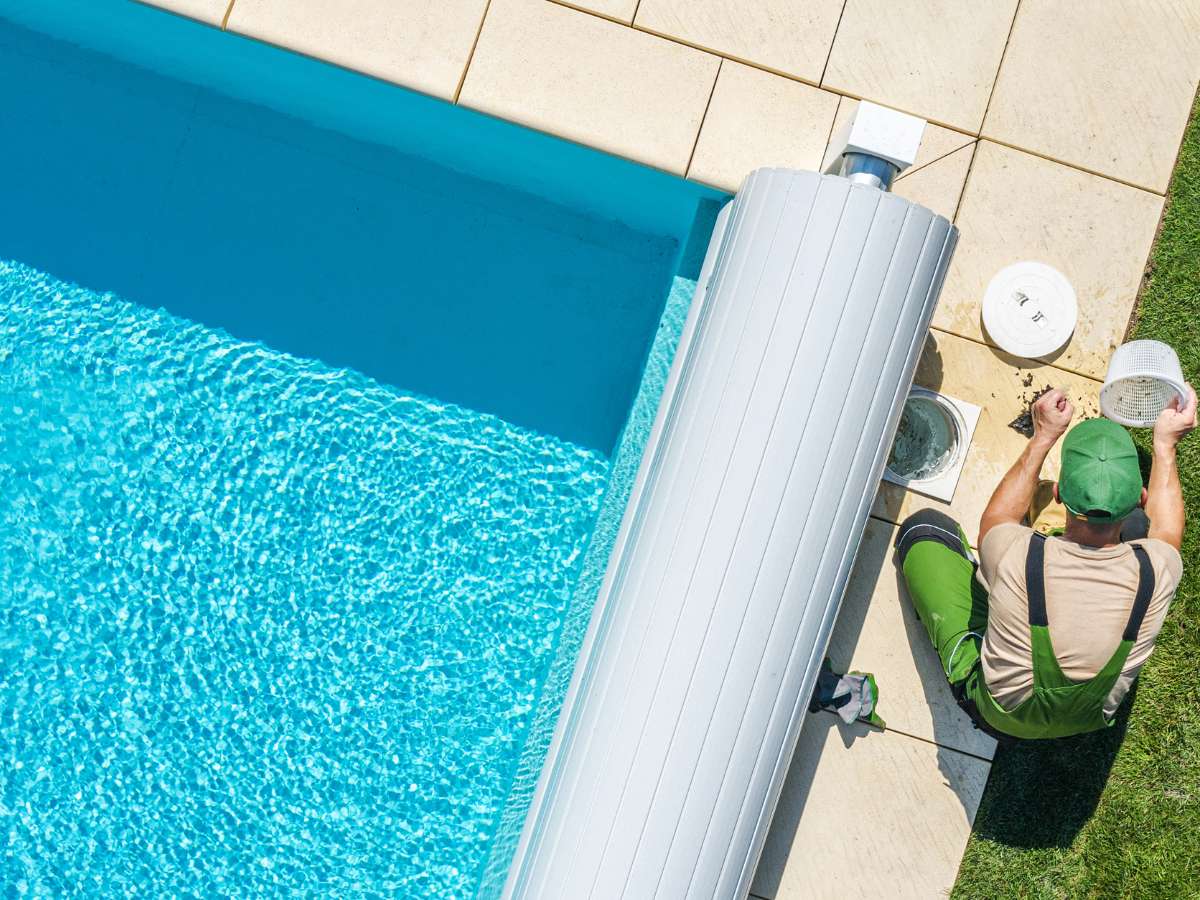 Keeping your pool filter clean is a critical part of maintaining crystal-clear water. A well-maintained filter helps to prevent clogs and ensures that your pool operates at peak efficiency.
Your first step should be to determine what type of filter you have: sand, cartridge, or diatomaceous earth (DE). Each has its own specific cleaning method.
Sand Filters
If you have a sand filter, backwashing is typically how you keep it clean. This process involves reversing the flow of water through the filter to dislodge any debris trapped within the sand bed.
To do this effectively, turn off your pump before moving the valve handle from "Filter" to "Backwash". Then restart your pump and let it run until clear water flows out from your waste line. Remember not to rush this; patience will reward you with cleaner results.
Cartridge Filters
A cartridge filter requires removal for cleaning purposes. Once removed, simply hose down each pleat thoroughly till no dirt remains visible on them.
In case they still seem dirty after hosing down, soaking them overnight in cartridge cleaner solution could help bring them back up-to-snuff. Make sure they are completely dry before reinstalling into their housing units though.
Diatomaceous Earth (DE) Filters
The DE filters also need to be backwashed. However, after each backwash, fresh DE must be added into the skimmer so it can replenish itself on the filter grids.
Remember to check your pool's pressure gauge regularly; a significant increase in pressure might indicate that your filter needs cleaning.
Cleaning or replacing filters may seem like tedious work, but doing so ensures that they run efficiently and helps maintain optimal water quality for safe swimming conditions. Regular maintenance of your pool filter will also extend its lifespan and reduce overall operating costs. So, let's keep those filters clean.
Key Takeaway:
Maintaining a clean pool filter is crucial for clear water and smooth operation. First, figure out your filter type – it could be sand, cartridge, or DE. Each of these has its own cleaning method. Backwashing is needed for sand filters; you'll need to hose down cartridge ones (or give them a good soak if they're really dirty), while DE filters require new DE after each backwash. And don't forget: regular pressure gauge check-ups are essential.
Vacuum the Pool Floor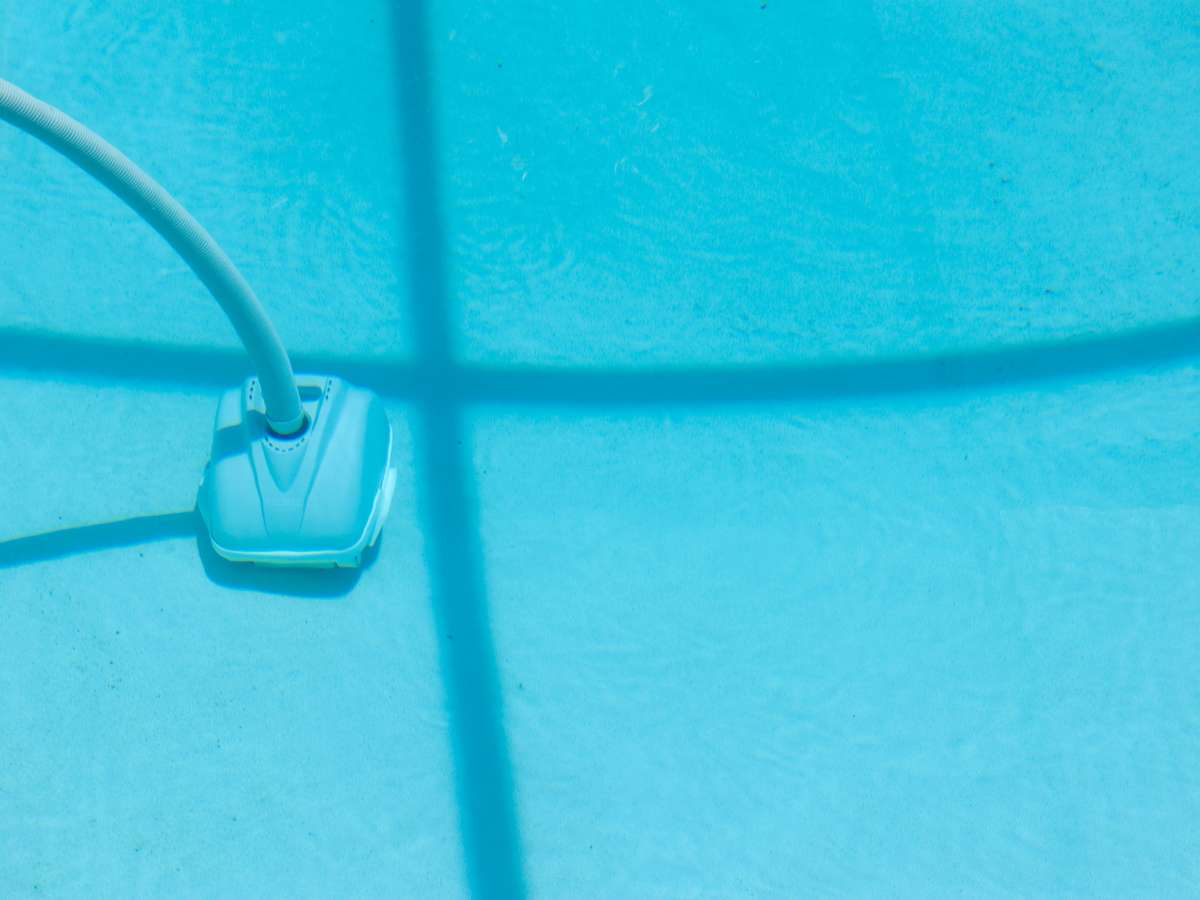 Picture your pool as a living room carpet. Just like you wouldn't want crumbs and dust accumulating on your rug, you also don't want dirt and debris settling at the bottom of your pool. The solution? Vacuuming.
Think of vacuuming not only as cleaning but more like giving your swimming space an essential health check-up. But why exactly is this so crucial?
The Importance of Vacuuming Your Pool Floor
Regularly vacuuming helps keep the water clear by removing those pesky particles that cloud up its appearance.
This simple act can go a long way towards ensuring safe swimming conditions, minimizing skin irritations or infections from bacteria nesting in unwelcome debris.
Tips for Effective Pool Vacuuming
To start with, make sure to use quality equipment – after all, it's only as good as its tools.
Familiarize yourself with how to handle the vacuum head – too fast properly, and you'll stir up the dirt rather than collect it. Too slow might lead to algae growth due to stagnant water flow.
Sweep before you deep clean. By brushing off loose residue first, it makes vacuuming much more effective later on.
Making It Part Of Your Weekly Routine
A weekly swim won't cut it if we're talking about maintaining sparkling blue waters year-round – yes, that means rolling up our sleeves every week to vacuum.
So, are you ready to dive into this task? Just remember, consistency is key. Like how we make sure our teeth stay squeaky clean with daily brushing, your pool needs that same regular care and attention.
Keeping your pool clean and safe might feel overwhelming at first. But trust me, with regular vacuuming, it's as easy as a summer breeze.
Key Takeaway:
Think of vacuuming your pool like cleaning a living room carpet – it's essential to keep the waters clear and safe. Regularly get rid of dirt and debris with quality equipment, using proper techniques for maximum efficiency. Just as brushing our teeth daily keeps them healthy, make vacuuming an integral part of your weekly routine for sparkling blue waters all year round.
Monitor Chemical Levels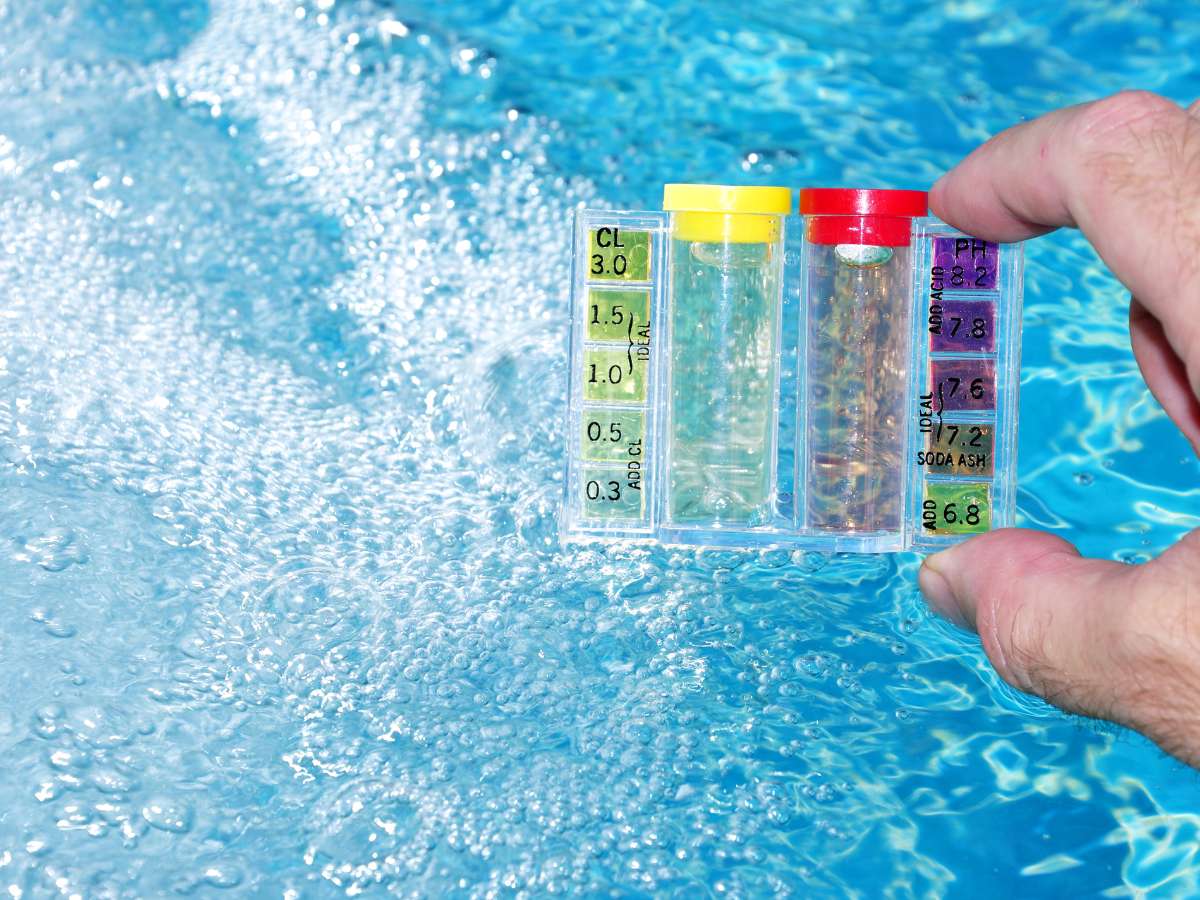 Maintaining a close watch on the chemical levels in your pool is critical for ensuring secure swimming conditions. Let's break down why it matters and how you can do this effectively.
The Importance of Balanced Chemicals
Balanced chemicals are key for both the longevity of your pool equipment and the safety of swimmers. High chlorine levels, for example, can cause skin irritation or even damage to the pool lining. However, low chlorine levels might let harmful bacteria thrive.
A balanced pH level ensures that chlorine works efficiently. It also helps prevent scale buildup and corrosion, which could lead to costly repairs if not addressed early on.
Maintaining Ideal Pool Chemistry
To maintain ideal chemistry in your pool, you'll need some basic tools like test strips or a digital water testing kit. These allow you to measure various parameters, including pH level, total alkalinity, and sanitizer level, such as free available Chlorine (FAC).
pH Level: The recommended range is between 7.4 – 7.6.
Total Alkalinity: Aim for a range between 80 -120 ppm.
Free Available Chlorine: This should ideally be kept at 1-3 ppm.
Tips For Balancing Your Pool Water
If any of these values are off balance, adjustments will be needed using appropriate chemicals like muriatic acid or sodium bicarbonate. Remember, always add chemicals to water and not the other way around.
When adjusting chemical levels, patience is key. It's important to wait for a few hours after adding any chemicals before retesting, as it takes time for them to mix with pool water fully.
Conclusion
Well, you've made it through the nitty-gritty of weekly pool maintenance. Let's recap.
You learned how to establish a regular cleaning schedule. This is your key to keeping that oasis in top-notch condition.
We dove into testing water quality too – pH, alkalinity and chlorine levels are your watchwords here. They'll let you swim without worry!
Cleaning filters? You're now on top of it! And vacuuming the floor isn't just for homes anymore – we do pools too!
Lastly, chemical balance isn't a science experiment gone wrong; It's essential for safe swimming conditions.
We hope these tips have been helpful in streamlining your weekly pool maintenance routine. Remember, for the ultimate convenience and peace of mind, consider scheduling an appointment with Aquaguard for expert pool care maintenance. Our experienced team is dedicated to ensuring your pool remains a source of relaxation and enjoyment rather than a source of stress. Contact us today, and let's keep your pool in pristine condition!