Ever stared into the crystal clear water of your swimming pool, questioning just how much chlorine you need to keep it that way? Chlorine's a real game-changer – like an invisible security guard working round-the-clock to keep nasties at bay. But getting the amount right can feel as tricky as balancing on a tightrope.
You're not alone in this! It's a common struggle to get the amount right. Too little and hello algae; too much, and you might just turn your beautiful oasis into a bleach factory!
Well, get ready for some relief because we're diving deep today. From understanding why chlorine is so crucial, figuring out the correct levels for your pool to troubleshooting common issues – it's all here. Let's make sure keeping that sparkle doesn't become rocket science anymore! So grab your floaties because we're about to dive right in.
Understanding the Importance of Chlorine in Pool Maintenance
If you've ever wondered why your pool water stays so clear and inviting, chlorine is the secret hero. It's like a hardworking janitor for your pool, relentlessly fighting against bacteria and algae.
Chlorine has two main jobs in maintaining pools: killing bacteria and preventing algae growth. The Centers for Disease Control (CDC) confirms that this powerful chemical disinfectant kills harmful microorganisms that can make swimmers sick.
Besides health protection, it also plays an important role in maintaining water clarity. Ever seen a greenish or cloudy pool? That's what happens when there isn't enough chlorine to combat algae growth.
Killing Bacteria
Swimming pools are basically large communal bathtubs – just think about all those people bringing their germs. Luckily, we have chlorine to get rid of them.
This sterilizing agent breaks down these pesky invaders into harmless elements by destroying their enzymes and structures – kind of like how soap destroys viruses on our hands
Preventing Algae Growth
Pools without sufficient chlorination may soon resemble swampy ponds due to unchecked algal blooms. Chlorine stops this from happening by breaking down the cell structure of algae as well – consider it as using weed killer on unwanted garden intruders.
Maintaining Water Clarity
No one wants to dive into murky waters where they can't see what lurks beneath. A well-chlorinated pool ensures crystal-clear visibility because once bacteria and organic compounds are destroyed, they can't cloud up the water.
So remember, to keep your pool looking its best and safest for everyone who uses it, don't skimp on chlorine.
Determining the Correct Chlorine Levels for Your Pool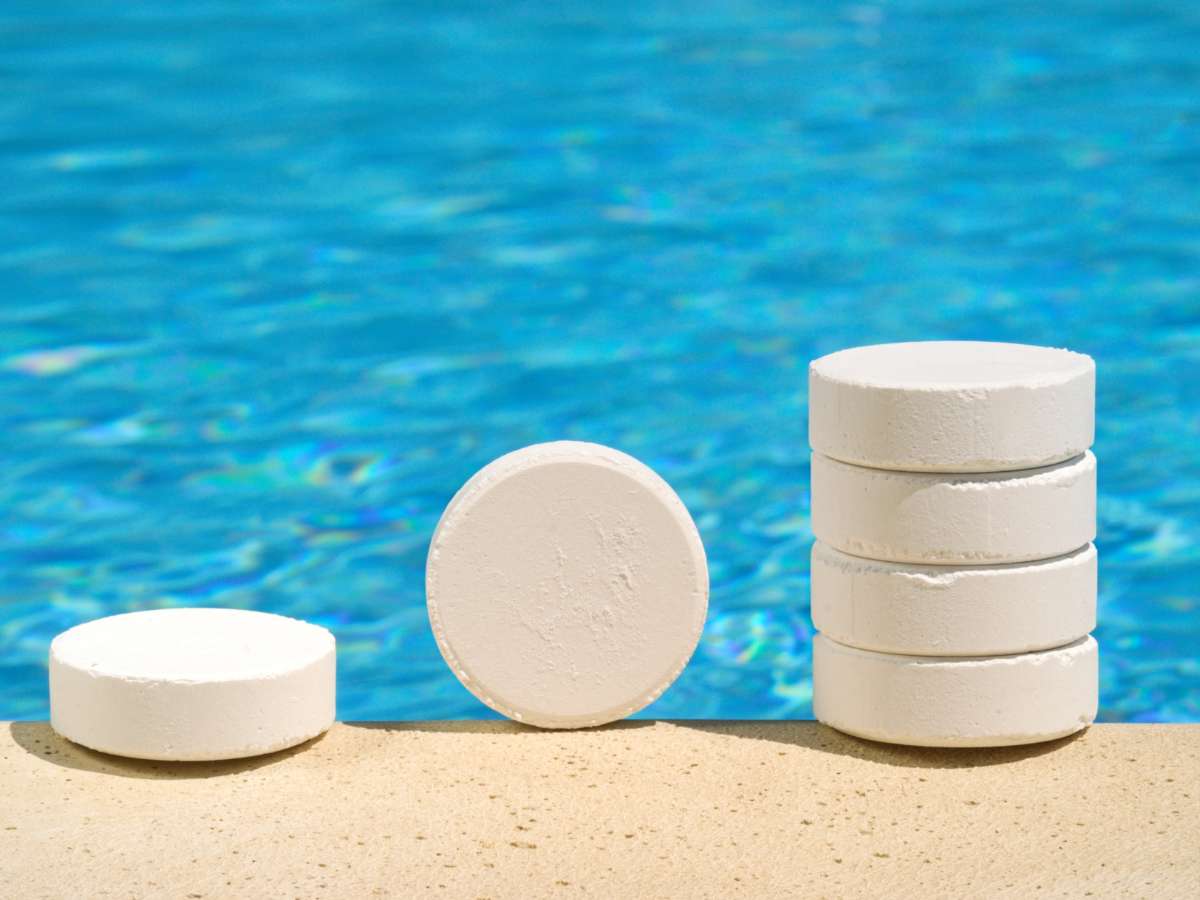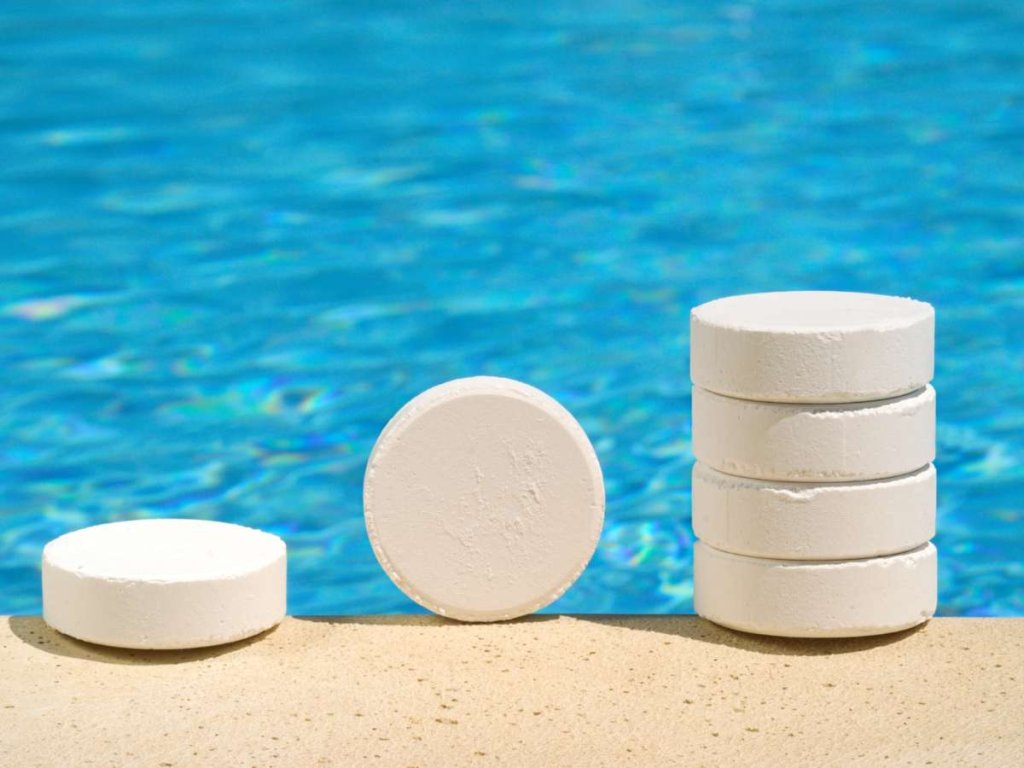 Chlorine levels in your pool are key to ensuring safe and enjoyable swimming. Too much can cause skin irritation, but too little might let harmful bacteria thrive.
Factors Affecting Chlorine Levels
The amount of chlorine necessary is contingent on multiple elements, such as the size of the pool, how often it's used, and weather conditions. Larger pools need more chlorine than smaller ones because they hold more water that needs sanitizing.
If you use your pool frequently or have many swimmers using it regularly, you'll need to add more chlorine due to increased bacteria introduced into the water. Weather also plays a part: hot sunny days may break down free available chlorine faster than cloudy, cooler ones.
Finding the Right Balance
A balanced level of chlorine is crucial. Generally speaking, an ideal range lies between 1.0-4 .0 ppm (parts per million). But remember, this is not a one-size-fits-all rule – always refer back to those key influencing factors mentioned earlier.
To ensure accurate measurements of your current levels before adding any new product, use reliable testing methods like test strips or digital testers.
Tips for Adding Chlorine Safely
The addition of chlorine should be done with caution. It's best added in the evening when UV rays won't degrade it rapidly, allowing it time to do its job overnight. Also, consider if granules or tablets would suit better based on ease-of-use and storage considerations.
Note: Be mindful about storing them away from children and pets, as they could pose a hazard if ingested.
By understanding the factors affecting chlorine levels and how to measure them accurately, you'll be well on your way to maintaining an inviting and healthy pool.
Key Takeaway:
Maintaining the right balance of chlorine in your pool is key for a safe and fun swimming experience. This depends on several factors such as how big your pool is, how often it's used, and even the weather. The ideal range typically sits between 1.0-4.0 ppm, but don't forget to factor in those crucial elements. Consistently monitor using trustworthy testing methods before tossing more chlorine into the mix. And remember – add it gently, ideally when night falls.
How to Measure Current Chlorine Levels in Your Pool
Checking your pool's chlorine level is vital to maintaining water clarity and hygiene. It's unnecessary to have any special skills or high-tech tools to get accurate measurements of your pool's chlorine level.
Picking the Right Test Kit
You'll first need a reliable test kit. Kits come in various forms: liquid reagent kits, test strips, or digital testers. Liquid kits are often more precise but can be tricky for beginners.
Performing the Test
To start, collect some water from about 12-18 inches below the surface – this gives an average reading rather than sampling just the top layer where sunlight may have broken down some of the chlorine. Next, follow your test kit's instructions closely as procedures vary between brands.
Analyzing Results
Your results will give you a measure of 'free' chlorine (the active kind that kills germs) and 'total' chlorine (which includes used-up chlorine). The difference between these two numbers tells us how much chloramine – spent chlorine – there is in your pool. Chloramines can cause irritation and strong smells so it's important not to ignore them.
The Ideal Chlorine Level?
Ideally, pools should maintain free chlorine levels between 1-4 parts per million (ppm), while total chlorine shouldn't exceed this range by more than 0.2 ppm. Consistent testing helps make sure your pool stays within this safe zone.
Remember, understanding how to measure chlorine levels is a critical step in pool maintenance – it's like checking the oil level in your car. With these steps and tips, you'll be able to keep your swimming area clean, clear, and healthy all summer long.
Adding Chlorine to Your Pool – Step-by-Step Guide
Chlorinating your pool doesn't have to feel like a chemistry exam. Let's divide it into more achievable pieces.
Step 1: Suit Up for Safety
Your safety is paramount. Be sure to don gloves and goggles, and make certain that the area has good air circulation prior to handling chlorine
Step 2: Measure Your Pool's Current Chlorine Levels
You need to know where you stand before adding more chlorine. Use a reliable testing kit, which can quickly give accurate readings of your pool's current levels.
Step 3: Determine How Much Chlorine You Need
This part isn't just guesswork. Use a chlorination chart . It takes into account factors such as pool size, use frequency, weather conditions – even if Fido took a dip.
Step 4: Add the Chlorine to Your Pool
If using liquid chlorine, pour it slowly and directly into your pool. For tablets or sticks, use a chlorinator or floating dispenser. Remember never to mix different types of chlorine together; this can cause dangerous chemical reactions.
Note: Avoid adding chlorine during the day because sunlight reduces its effectiveness.
With practice, you'll soon master the task.
Regular Maintenance and Adjusting Chlorine Levels
Maintaining the right chlorine levels in your pool is key to keeping it clean, safe, and enjoyable. This involves regular testing and adjustments as needed.
Testing Frequency
The frequency of testing largely depends on how often you use your pool. A decent guideline is to examine the pool at least once a week when swimming is most popular. For less frequent usage periods like winter, testing once every two weeks should suffice.
Making Adjustments
If tests reveal an inadequate or excessive chlorine level, adjusting the amount as needed to achieve 1-4 ppm is necessary. A professional-grade chlorinator can help with this task.
You want to aim for a chlorine level between 1-4 parts per million (ppm). Anything below may not effectively kill bacteria and algae while above might lead to skin irritation or eye discomfort among swimmers.
Safety First.
In handling chemicals like chlorine, always put safety first. Wear gloves and goggles when adjusting chemical levels – remember that we're dealing with substances strong enough to kill microorganisms.
The CDC recommends this practice because they know what's best for our health.
Maintenance Tips:
Avoid adding more than the recommended amounts of any chemical into your pool water; excess chemicals won't necessarily make it cleaner but could cause issues instead.
It's better late at night or early in the morning when UV rays are less intense, as they can reduce chlorine's effectiveness.
Always dissolve granular chlorine before adding it to your pool to avoid damaging the liner.
Incorporating these practices into your regular maintenance routine will help keep your pool clean and safe for everyone who uses it.
Troubleshooting Common Chlorine-Related Pool Issues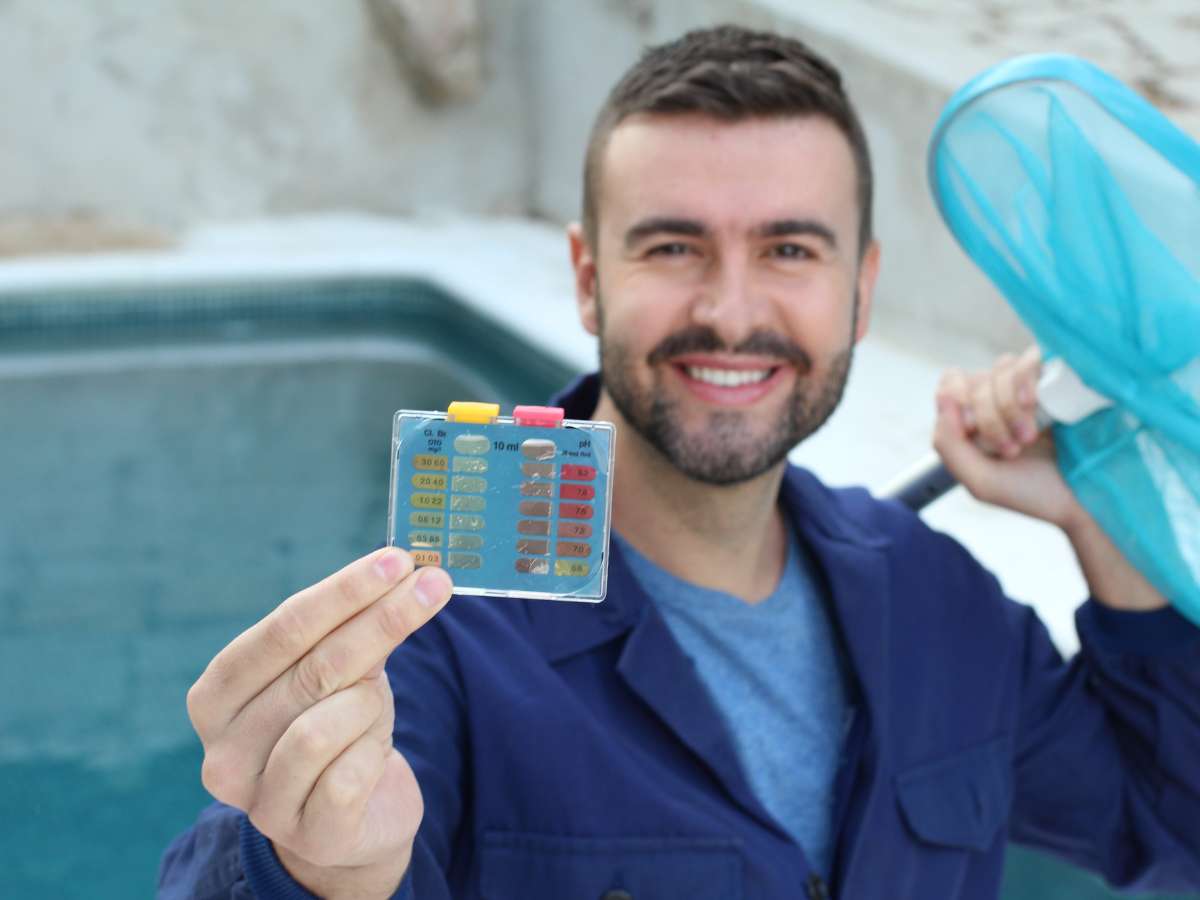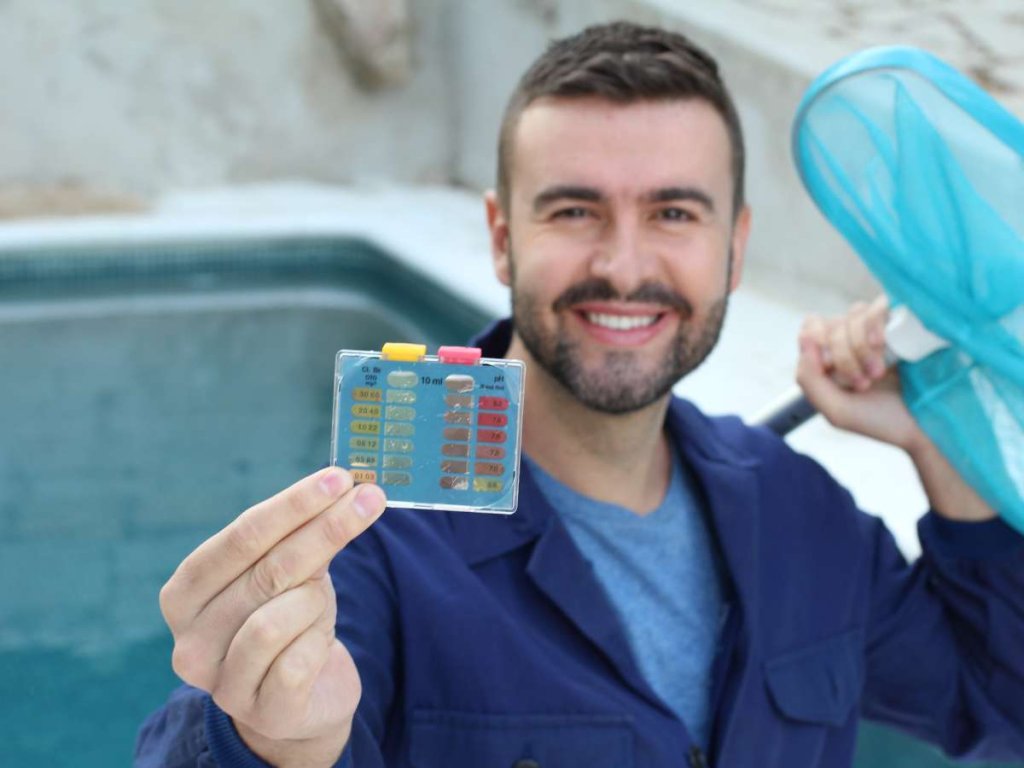 Chlorination problems can cause more than just an unpleasant pool experience. They could lead to health issues and damage your pool infrastructure.
The Sting of Too Much Chlorine
A common misconception is that a strong chlorine smell means a clean, healthy pool. But this isn't the case. A strong smell often signals too much chlorine or chloramines—chemical compounds that form when chlorine binds with sweat, urine, and other organic matter in the water. These culprits are responsible for stinging eyes and itchy skin after swimming.
Cloudy Water or Algae Growth?
If your crystal-clear water starts looking like milk tea, you may have insufficient chlorine levels letting algae grow unchecked. The Centers for Disease Control (CDC) offers advice on preventing algae blooms in pools.
Solution: Regular Testing & Adjustment
You'll need to regularly test and adjust your pool's chemical balance to prevent these issues—a process made easy by using reliable testing kits such as those recommended by the New York State Department of Health.
Pick up some testing strips from any reputable home improvement store,
Dip them into various parts of your pool,
Analyze the color change against provided charts.
You're now equipped with essential knowledge about troubleshooting common chlorine-related pool issues. With this information, you can maintain a safe and enjoyable swimming environment for all to enjoy.
Conclusion
And there you have it, folks! Now you know the ropes on how much chlorine to add to pool. Remember, it's all about balance – like walking that tightrope!
You've got this because now you understand why chlorine is so important. It's your invisible guard against bacteria and algae.
You're equipped with a method for determining the right levels of chlorine based on factors such as size, use frequency and weather conditions.
You've learned practical ways to measure current levels accurately using test kits or digital testers – a must-know before adding more!
We've walked through steps on safely adding chlorine. You also gained insights into regular maintenance tips and adjusting those levels when needed.
And finally, we addressed troubleshooting common issues related to chlorination in pools; understanding when there's too much or too little at play here can save your day!
But remember, pool care can still be a bit tricky, and Aquaguard 5000 is here to help. Our experts are just a click or a call away, ready to provide personalized pool care recommendations to make your life easier. Don't hesitate to schedule an appointment with us today. Your pool deserves the best, and with Aquaguard 5000, it can stay immaculate with ease. Dive into a hassle-free pool ownership experience now!