In years past, if you wanted a swimming pool that looked attractive and sparkled like new, you had to repaint it about once a year because the older types of pool paint didn't last very long. Chemicals to keep the water clean, and UV rays from the sun eventually cause small cracks in a swimming pool, and then the cracks grow, which can compromise the integrity of the entire pool. Read on to find out more about why epoxy pool paint is the best choice of paint for your swimming pool.
Benefits of Applying Epoxy Pool Paint
Epoxy pool paint works like all other types of epoxies in that you have two different containers that need to be mixed together to form a bond before you use it. It has many great benefits, such as smoothing out your surfaces, so less cleaning is required to keep your pool clear and algae-free. Epoxy pool paint is readily available to you in a swimming pool supply store in Florida with directions on how to use it. Epoxy paint can last up to 8 years if you are diligent in cleaning and maintaining your swimming pool.

6 Reasons Why Epoxy Pool Paint is the Best Choice for Your Pool
Epoxy pool paint is the best choice for your pool because of its long life span, but it is more expensive than other types of pool paint, such as acrylic pool paint, which only lasts 1 to 4 years long before needing to be repainted. In the long run, you save valuable money and time by using epoxy pool paint. Here are 6 reasons why you should choose epoxy as your paint of choice:
The most durable pool paint, and it can withstand UV rays, automatic pool cleaners, and pool treatment chemicals.
It's the thickest pool paint that is able to smooth out your old and rough surfaces for a slick and sleek finish.
Epoxy fills in hairline cracks in the pool shell, which saves the step of making repairs first, and then painting it with a different kind of paint.
You get an ultra-smooth finish that is much like tile.
Epoxy has great coverage, and you can paint about 500 square feet with one gallon of paint.
This is the only paint that is recommended for fiberglass pools.
Long-Term Care
Since epoxy pool paint gives you the power to fill in cracks and smooth out your rough surfaces, it repels algae from sticking to the floor and walls, as well as the steps. This is a great advantage of a fiberglass pool and why homeowners and commercial pool owners prefer fiberglass in the first place.
Using epoxy pool paint can even enable pool experts to paint murals on your pool floor and walls if you wish for a truly unique and beautiful experience.
Epoxy enables you to clean your pool much faster and less often, and on fiberglass pools, it enables less time in adjusting your pool chemicals to be less labor intensive all around.
Need a Pool Expert?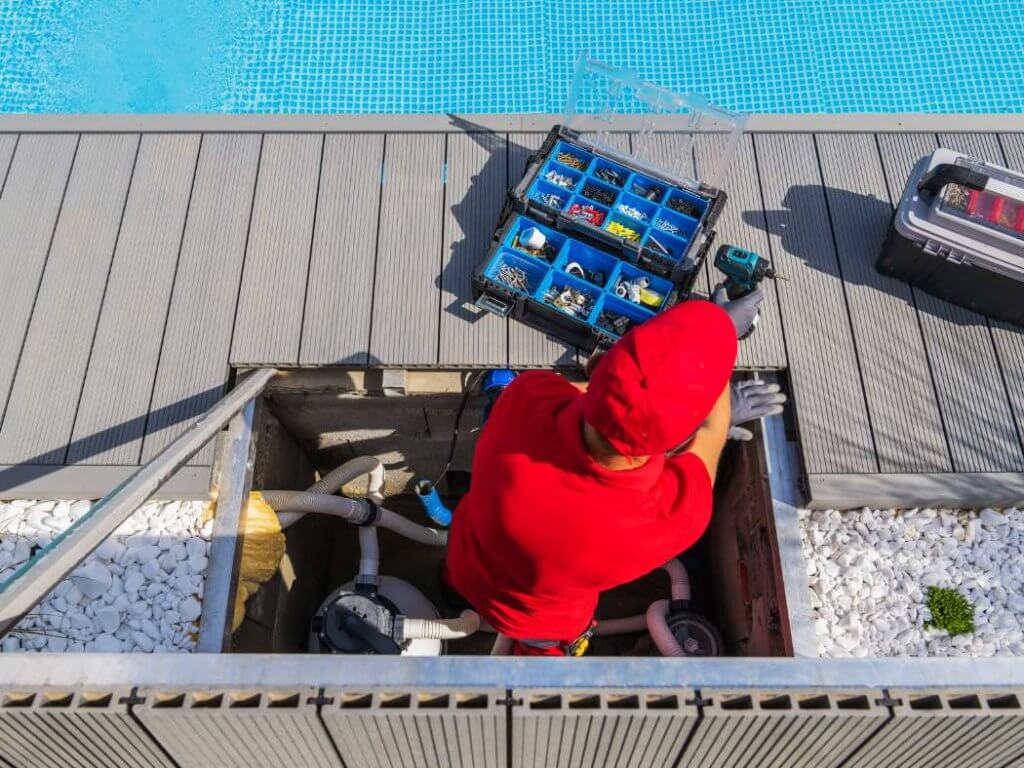 Epoxy pool paint is a superior choice for those looking to upgrade their pool surfaces. Whether you're looking to give your pool a fresh new look or simply want to ensure that your surface is protected against the elements, it is a reliable and practical choice that is sure to deliver results.
Of course, the process of painting your pool to return it to its original beauty is time-consuming for homeowners and so, most often it is left to the pool experts. At Aquaguard 5000, we've been restoring, repairing and repainting pools for decades for both residential and commercial use. Contact us as your premier pool restoration and repair store today!