Planning to install your dream pool requires careful consideration and planning. While width, length, and depth play an essential part in its creation, one often-overlooked element that can transform its aesthetics and functionality is its liner.
Imagine your pool's liner as its outermost skin, defining its visual appeal and setting its visual style. Most pools have a classic deep blue hue; however, pool liners offer more variety.
Black bottom pools have emerged as a popular trend, appreciated for their unique aesthetics and dramatic appearance. The dark surface gives the pool water an invitingly warm, deep blue hue that's visually appealing.
The main question people ask is: what are black bottom pools? Simply put, they're swimming pools with a dark finish on the pool plaster, which results in beautiful, deep colors when filled with water. But it's not just about looks – there are practical reasons to choose this type of pool design, too.
A major reason why some homeowners prefer black swimming pools is their ability to absorb more sunlight than light-colored ones like white or light blue. This feature makes them easier to heat and can save money on heating costs. Plus, the darker color helps hide dirt making these types of fiberglass or vinyl liner inground pools appear cleaner.
However, before jumping into building your black-bottomed paradise, let's consider all angles. Like anything else in life – nothing comes without its pros and cons.
Darker colored materials used for creating such striking visual effects may be more susceptible to fading over time due to constant exposure to sun rays & harsh chemicals often used in regular pool maintenance procedures. Also, an important note is that deeper shades might affect depth perception, causing potential safety hazards, especially for small children who aren't adept swimmers yet.
This article provides valuable insights regarding risks associated with dark-colored pools.
The Benefits of Black Bottom Pools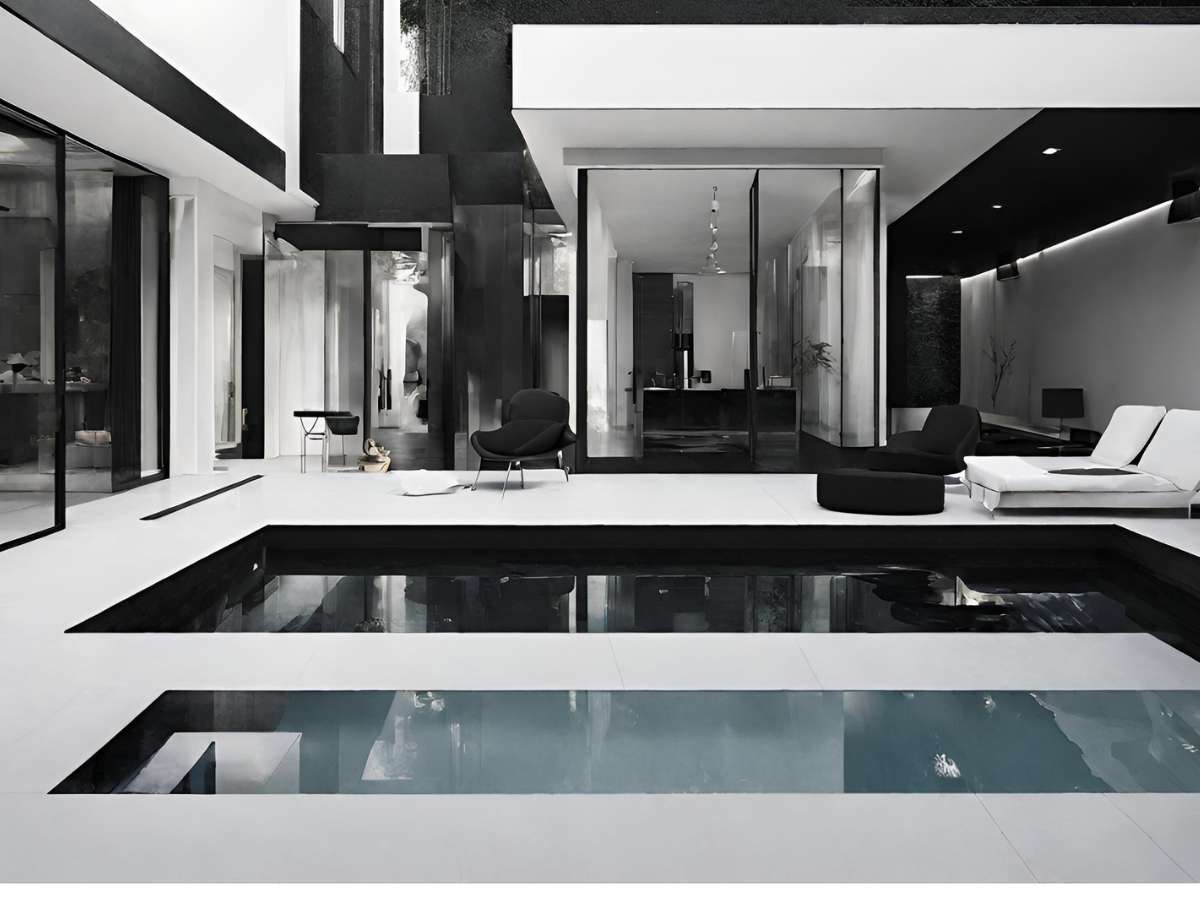 Black bottom pools are a striking alternative to the typical blue or white varieties. But their benefits extend beyond aesthetics.
Heating Efficiency in Black Bottom Pools
A key advantage of black bottom pools is their ability to absorb sunlight and, as a result, heat up naturally. Black bottom pools can help save on utility bills, making them a cost-effective and environmentally friendly option for pool owners.
Darker colors make these pools easier to heat because they retain warmth from the sun better than lighter ones.
Aesthetics and Design Flexibility
With black bottom pools, you're not just getting a swimming area; you're getting an aesthetic centerpiece that complements various backyard themes beautifully. The dark surface creates a stunning contrast with the surrounding greenery while matching specific aesthetics perfectly.
This depth of color gives off rich blue hues under different lighting conditions—an appealing feature for homeowners who value design flexibility.
Durability Against Algae Growth
Last but certainly not least, if properly maintained, black-bottomed swimming spots resist algae growth better than other types due to their long-lasting pigmentation. Research suggests that the darkness deters light-dependent algae formation—less cleaning hassle for busy folks like yourself.
Potential Drawbacks of Black Bottom Pools
Despite the unique aesthetic appeal, black bottom pools can have some drawbacks. These issues often concern visibility concerns, higher costs, and maintenance requirements.
Limited Visibility in Black Bottom Pools
The dark pool surface might look beautiful from afar, but it can be more functional up close. A significant concern is how the color affects swimmers' depth perception, potentially leading to accidents. It's also harder to spot debris or foreign objects that may have fallen into the water due to limited visibility in black bottom pools.
Safety Regulations for Black Bottom Pools
Depending on where you live, local safety regulations restrict your ability to install a black-bottom pool. This is primarily because darker colors are considered more of a safety hazard than lighter ones – especially for small children who aren't strong swimmers yet.
Maintaining Your Dark Pool Coloration
A black swimming pool needs special attention to maintain its deep blue hue and overall cleanliness since dirt isn't easily visible on such dark surfaces. As an owner of this type of pool design, you'll likely need professional help regularly cleaning and balancing chemicals properly so that they don't discolor or damage your prized possession over time.
Fiberglass vs Vinyl Liner: Comparing Expenses
If cost is an important factor for you, then bear in mind that while fiberglass pools tend to be less expensive initially compared to vinyl liner ones, their long-term expenses can be much higher due to frequent maintenance requirements caused by fading coloration and erosion problems associated particularly with these darker colors.
Safety Measures for Black Bottom Pools
Regarding pool design, the aesthetic appeal of black bottom pools can be a draw. But with this unique choice in color come specific safety considerations that every pool owner needs to know.
Maintaining Your Black Bottom Pool
Black bottom pools, known for their striking visual appeal and solar heating efficiency, need more attention to keep them in tip-top shape. Proper maintenance is critical to prevent mineral scale build-up, fading, and erosion that can mar their beautiful dark surface.
Regular Cleaning and Balancing Water Chemistry
To maintain the stunning aesthetics of your black pool, it's important to clean regularly. Regular skimming helps eliminate debris that may cause unsightly spots on the dark pool floor. Also vital is balancing water chemistry. Improper pH levels can lead to scale build-up or discoloration over time.
A well-maintained swimming pool also reduces potential health hazards from bacterial growth. So make sure you're diligent about testing chemical levels frequently – at least once a week should do the trick.
Fading Prevention Measures
No one wants a dull-looking black bottom pool. You can take a few measures to prevent fading (an issue unique to these types of pools). Firstly, high-quality chlorine stabilizers help protect against harmful UV rays contributing to pigmentation loss.
You could also consider investing in some cover when not using your deep blue haven during peak sunlight hours–it's like applying sunscreen on those summer days.
Hiring Professional Help When Needed
Sometimes, it's best left up to professionals with experience with different pool types. Hiring an experienced service company will ensure proper care without causing further damage through trial-and-error attempts at-home fixes.
Remember, maintaining a black bottom pool might seem more work, but the result is worth it—a beautiful deep blue oasis right in your backyard.
Conclusion
Deciding on a pool type can be challenging. Black bottom pools have their unique allure. They create dramatic backdrops, heat efficiently, and hide dirt well.
But remember, they come with challenges, too: safety concerns due to limited visibility, potential higher maintenance needs, and even marketability issues when selling your home.
The material you choose also matters; vinyl or fiberglass can fade over time, requiring replacements sooner than expected.
Maintaining chemical balance is vital for cleanliness, while thoughtful landscaping can enhance the visual appeal further.
Ultimately, consider your priorities carefully before taking the plunge into this intriguing world of black-bottom pools.
Upgrade Your Pool Now: Experience the excitement and satisfaction of pool transformation with Aquaguard 5000's Pool Paint Finish. Book an appointment to discuss your project now, and watch as your pool undergoes a stunning makeover.