There are two common types of cracks seen in swimming pools. Some of these cracks develop from natural ground movement and shifting, while others occur due to structural weakness in the pool.
For information on identifying types of cracks in your pool and how to repair them with our many pool crack repair kits, contact Aquaguard 5000, industry leaders in resurfacing and repair products for commercial and residential pools, at (772) 758-2370.
Types of Pool Cracks
There are two primary types of pool cracks: surface cracks and structural cracks. They are usually easily distinguishable but are also testable to know for sure, and knowing the difference is crucial to preventing further damage or leaking.
Surface Cracks
Surface cracks are minor cracks that do not affect the foundation or strength of the pool. Although surface cracks are unappealing to see in our pools, they are relatively harmless. However, it is essential to evaluate and monitor surface cracks to ensure they do not become something more serious.
Signs of Surface Cracks in Swimming Pools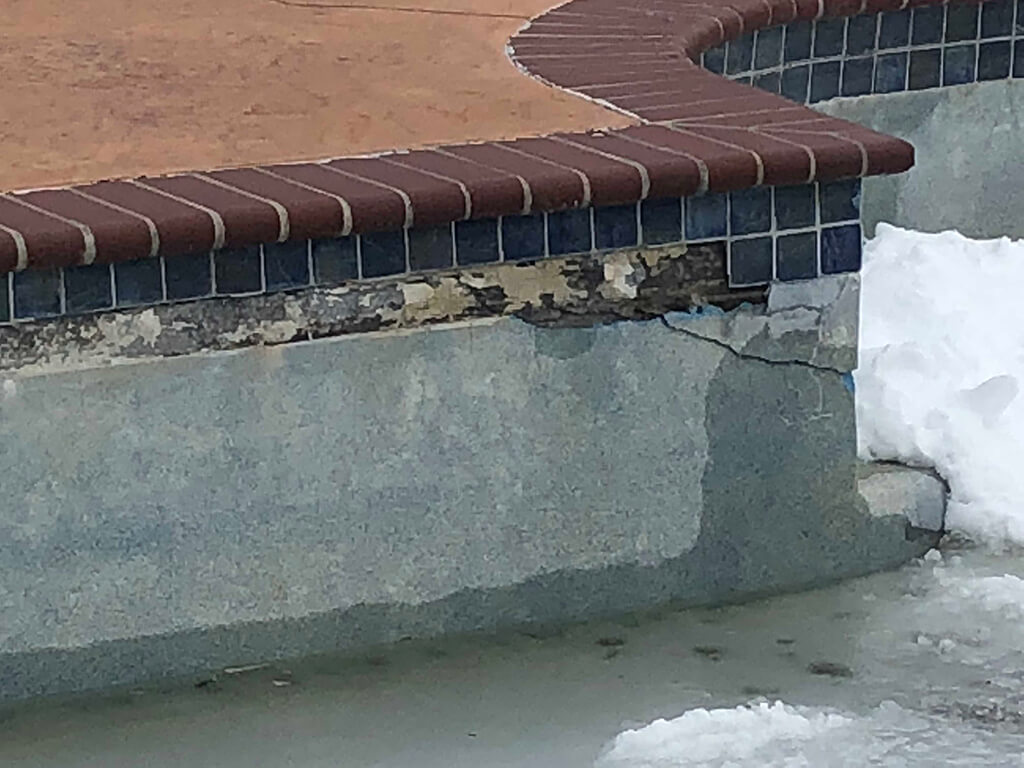 Surface cracks are often not as large or easy to spot as structural cracks. Signs of surface cracks include:
Thin hairline fractures expanding horizontally or vertically along the sides of the pool
Slight, shallow chipping of the concrete
Cracks that do not extend beyond the pool plaster
Causes of Surface Cracks in Swimming Pools
It is natural for a shallow pool crack to form somewhere on the surface during installation and for others to develop over the pool's life. Some causes for surface cracks include:
Natural expanding and shrinking of the concrete due to weather changes
The concrete hardening process at installation
Basic wear and tear
Again, most surface fractures, although unsightly, are naturally occurring and usually no cause for concern. Monitoring them can be helpful to make sure nothing changes. There are options to repair even minor surface cracks with pool crack repair kits.
Structural Cracks
Structural cracks are cracks that penetrate the concrete foundation of the pool, and these cracks can lead to leaking if not resolved. Structural pool crack repairs often involve sealing or resurfacing the pool to prevent widening, further damage, and leaking.
Signs of Structural Cracks in Swimming Pools
Structural cracks are larger and more accessible to identify than surface cracks. Signs of structural damage include:
Large vertical or horizontal cracks on the sides of the pool
Cracks at the bottom of the pool
Water flowing in or out of cracks
Rust or debris coming from cracks
Causes of Structural Cracks in Swimming Pools
There are typically three leading causes of structural cracks in swimming pools. These include:
Poor craftsmanship
Poor design
Soil changes
Poor craftsmanship includes an unnecessarily quick installation that doesn't allow the concrete to cure or features to settle. It also has poorly installed support elements such as unevenly spaced rebar or expansion joints.
Poor design involves critical mistakes such as building the pool on a hillside or with sharp angles and edges in the shape of the pool. These flaws create structural weaknesses from the start, leading to early cracking and leaking and reducing the life of the pool.
Soil changes impact structure due to over-saturation or drying of the pool's ground area. Oversaturation and drying cause hydrostatic pressure, soil expansion, and shrinking issues. These changes cause shifting and movement of the pool foundation, increasing the likelihood of cracks and leaks.
Resolving Concrete Cracks in Swimming Pools
Regardless of the type of cracks in your swimming pools, it is essential to look at sealing, resurfacing, and repairing options. Pool crack repair includes solutions such as epoxy pool paints and epoxy crack injections,  both of which are easy and safe to apply to a pool surface. We have many pool crack repair kits to choose from to make the process easier.
If you notice cracks in your pool and aren't confident whether or not they are something to be concerned about, call a professional at Aquaguard 5000. Our expert staff can help you understand what to look for and how to prevent further damage.
Our supplies for resurfacing and repairing concrete cracks are reliable and easy to use. Our staff is knowledgeable, friendly, and always ready to help.
If you have concerns regarding your pool's structure, you can't go wrong contacting Aquaguard 5000 at (772) 758-2370 today for an evaluation.