Ever found yourself floating in a pool, eyes closed to the summer sun, and suddenly wondered – what are pools made of?
Pools can be as diverse as the backyards they inhabit. Concrete masterpieces? Fiberglass basins? Vinyl liner sanctuaries?
In this read, we dive beneath the surface. We'll navigate through concrete's durability, fiberglass' cost-effectiveness, and even vinyl liner's ease of installation.
We'll also explore how these materials influence maintenance needs because, let's face it – nobody wants their oasis turning into a chore! Your perfect pool might just be one material discovery away… Ready to take that plunge with us?
Types of Pool Construction Materials
Pools are more than just holes in the ground filled with water. They're complex structures, and their construction materials can greatly affect their longevity, maintenance needs, and aesthetic appeal.
Concrete pools, for instance, boast a robust structure that's perfect for customization. With concrete as your base material, you have free reign over shape and size – allowing you to design a pool that fits perfectly into your space. For an added layer of protection against wear-and-tear from chlorine or saltwater systems alike, Aquatic Technologies Group's eco-friendly epoxy coatings give these pools increased durability.
Moving on to Fiberglass pools, they are revered for being cost-effective while still offering a smooth finish without the need for liners. But they do come with limited design options due to pre-fabrication restrictions.
Last but not least are Vinyl liner pools. Known for affordability and quick installation process, vinyl offers plenty of versatility when it comes to design choices too.
Benefits of Concrete Pools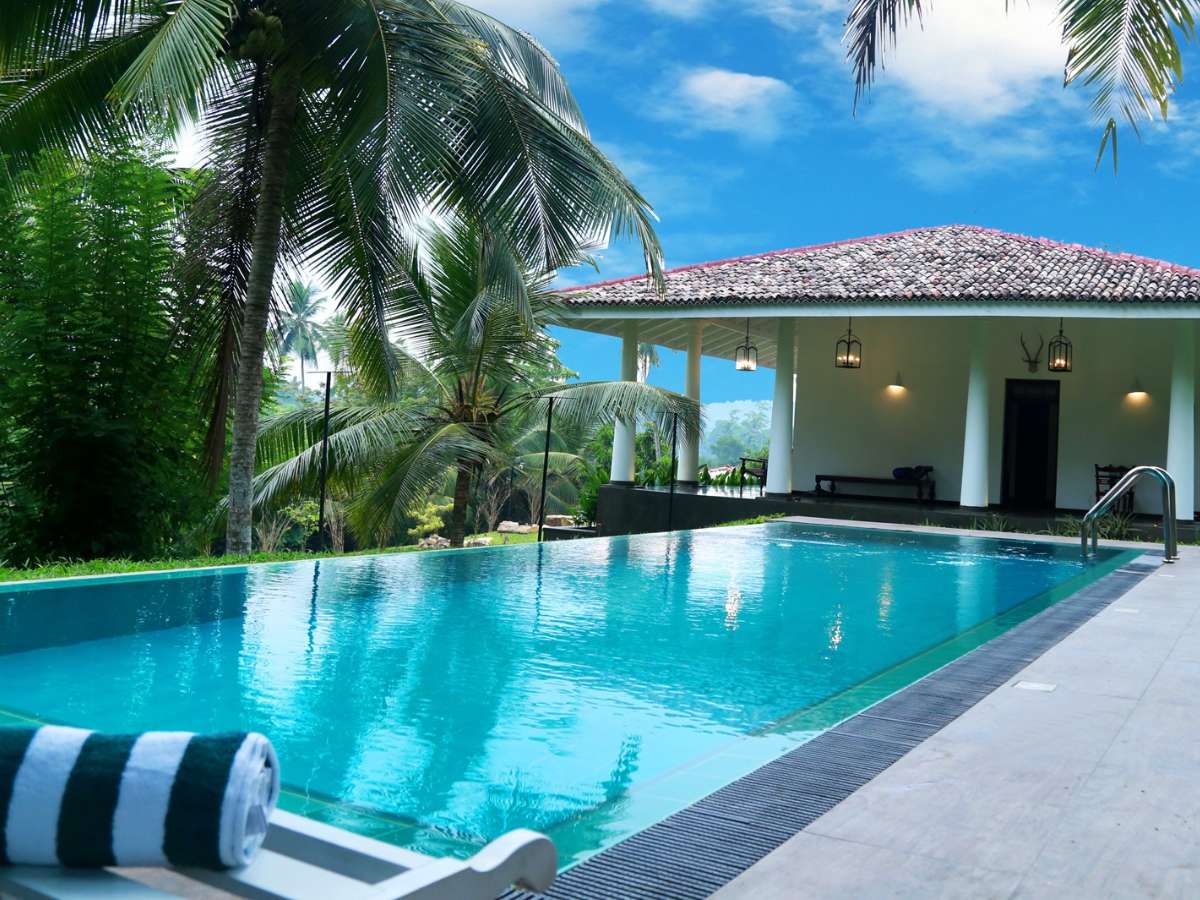 The strength and longevity of concrete pools are hard to beat. Constructed with a combination of cement, sand, water and aggregate components, concrete pools are designed to remain in excellent condition for many years. But durability isn't their only advantage.
One standout benefit is customizability. Unlike fiberglass or vinyl liner pools which come in predetermined shapes and sizes, concrete pools can be shaped to fit your unique space requirements – think freeform designs or infinity edges.
A well-constructed concrete pool also offers smoother surfaces compared to other types thanks to products like Aquaguard's eco-friendly epoxy coatings that give the finishing touch.
Maintenance needs vary across materials but here too, concrete stands out favorably because it resists algae growth more effectively than others. So you get less time scrubbing walls and more time enjoying your swim.
To sum up: if you're looking for a sturdy pool that lets you unleash your creativity while minimizing maintenance efforts – look no further than concrete.
Pros and Cons of Fiberglass Pools
Fiberglass pools are a common selection for homeowners, yet they have their own benefits and drawbacks. A major benefit of fiberglass pools is their cost-effectiveness, as they require less frequent resurfacing than concrete pools and have a smooth surface, which helps reduce algae growth. With a fiberglass pool, you can expect fewer expenses over time because the surface doesn't need frequent resurfacing like concrete pools.
Another plus point to consider is that fiberglass pools have smooth surfaces which reduce algae growth. This feature makes them easier to clean compared to other types.
However, there's no such thing as perfect – so let's talk about some drawbacks too. The most notable one being limited design options due to prefabricated shapes and sizes.
The shell cannot be customized on site, limiting your creative control over its look and feel.
The size may also pose transportation challenges depending on where you live.
Last but not least, although rare – these shells can develop cracks if not handled properly during installation or under extreme weather conditions.
All in all, whether a fiberglass pool suits your needs depends largely on what you prioritize: easy maintenance and affordability or flexibility in design?
Advantages of Vinyl Liner Pools
Vinyl liner pools have several advantages that make them a popular choice for many homeowners. One significant benefit is their affordability. Compared to concrete and fiberglass options, vinyl liner pools are generally less expensive.
The installation process for these types of pools also tends to be quicker and more straightforward than other materials. This lets you dive into your new pool sooner rather than later.
An additional advantage lies in the flexibility of design offered by vinyl liners. Unlike rigid materials like concrete or fiberglass, vinyl can easily conform to any shape or size, making it possible to create a truly custom pool tailored to your unique backyard space.
Maintenance-wise, they need fewer chemicals than concrete pools due to their nonporous surface, reducing algae growth, according to Pool Pricer.
Eco-friendly Option
Another surprising fact about vinyl liner pools? They're an eco-friendly option. These liners are recyclable once they've reached the end of their lifespan—typically around 7-10 years—which contributes positively towards waste reduction efforts.
Maintenance Requirements for Different Pool Materials
Each type of pool material, be it concrete, fiberglass, or vinyl liner pools, has its unique maintenance needs. Let's delve into the specifics.
Concrete Pools
Concrete pools are durable but require more upkeep. Regular brushing to remove algae is crucial because these microscopic organisms can burrow into porous concrete surfaces. Additionally, acid washing every 3-5 years helps maintain their aesthetic appeal and structural integrity.
Fiberglass Pools
Fiberglass pools have a nonporous surface that hinders algae growth, making them easier to clean compared with other materials. But they aren't invincible. Over time, exposure to sunlight and chemicals can cause discoloration, necessitating an occasional professional buffing session. Learn more about maintaining your fiberglass pool here.
Vinyl Liner Pools
Affordable and easy-to-install vinyl liner pools need special care, too. To prevent tears or punctures from ruining your fun in the sun, make sure you use soft brushes for cleaning debris off these delicate liners.
FAQs
What is the best pool made of?
The "best" material for a pool depends on your needs. For durability and customization, go with concrete. Fiberglass offers cost-effectiveness, while vinyl is affordable and easy to install.
What kind of pool lasts the longest?
A well-maintained concrete pool can last over 50 years, making it the long-lasting choice among common materials.
What are luxury pools made of?
Luxury pools often use high-quality materials like glass tiles or natural stone along with custom-built features for an upscale look.
What are inground pool walls made of?
Inground pools typically have walls constructed from steel, polymer, or concrete depending on the type – vinyl liner, fiberglass or gunite respectively.
Conclusion
What are pools made of? You've explored that today.
Durability and customizability put concrete in the lead. But remember, it might be heavy on your pocket.
Fiberglass comes with cost-effectiveness, although design options can limit you a bit. Yet, its easy installation is hard to ignore.
Vinyl liner pools shine in affordability and ease of set-up but don't forget about those extra maintenance needs!
Maintenance – this plays a big role no matter what material you choose. So make sure you're ready for the upkeep!With all these insights, finding your perfect pool material should feel like less of a dive into the unknown now…
Picking the right option hinges on what suits you best…your backyard haven is just a step away!
Are you eager to embark on your pool construction project with vinyl liner pool stairs as a centerpiece? Aquaguard 5000 is here to turn your vision into reality. Contact us now to schedule an appointment with our experts and take the first step toward creating a pool that reflects your unique style and needs. Your dream pool is just a call away!