Inground fiberglass swimming pools are trendy among homeowners. They are a lower maintenance option and take much less time from installation to the time you can swim in it. Sometimes fiberglass pools will crack, though. Read on to find out about fiberglass pool repair tips and tricks.
What is a Fiberglass Pool?
Fiberglass pools are large molded structures made of resins and fiberglass and then coated with a gel to create a non-porous surface. You can choose from many different shapes and sizes to fit in the space that you have for them. The pool structure is installed in the ground and is usually surrounded by concrete to keep the pool in place.
How to Tell If Your Fiberglass Pool is in Need of Repair?
Hairline cracks, also called spider cracks, develop in the gel coating of the fiberglass after quite some time. These tiny cracks don't hurt anything, but they do spoil the appearance of your swimming pool. You will tend to get cracks a bit larger, which is expected in the wear and tear process. If you notice damage that is quite a bit larger and over 1/8 inch wide or over a foot in length, you could have a foundation problem. In this case, you must call a professional pool company for repairs.
Why is Fiberglass Pool Repair Important?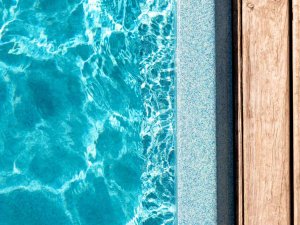 If more minor cracks in your pool are allowed to remain, they will eventually get larger and cost more to repair them. Larger cracks in your pool can also leak water. If they are at the bottom of the fiberglass shell, water can leak underneath it and erode the foundation, which is expensive to repair professionally.
Tools and Materials Needed For Repairs
You will need some pretty basic tools for your fiberglass pool repair. You need an electric disk sander, a diamond cutting wheel, a fiberglass pool repair kit, a marker, a putty knife, a clean cloth, acetone, masking tape, a ribbed roller, and a paint roller. Make sure that you get a swimming pool repair kit from a swimming pool supply store in Florida so it will have the right items that will not be harmed by pool chemicals that you use to keep it in balance and clean.
6 Tips and Tricks for Fiberglass Pool Repairs
Drain the Pool
Your first step is to drain your pool and let it dry completely and fully. This allows you to inspect better the areas that need repair. Underwater repairs may be used, but it isn't recommended because it prolongs the repair process, and the cracks will likely reappear because they didn't dry thoroughly.
Sand the Damaged Area
Use an electric sander for sanding down the area around the crack, so you remove any loose debris and paint, and then use acetone on a dry clean cloth to remove any sanding debris. Don't manually sand the area with sandpaper; it won't give you the same smooth result.
Mark the Area and Cut it Out
Remove the sanding disk from your sander and put a diamond-edge cutting wheel on it. Mark an area about 2 inches around the entire crack on the outside of it with a marker. Cut out the area on the marked lines to the depth of the crack to remove it.
Apply the Bond
Mix the bond coat following the instruction sheet in your repair kit and apply it to the crack with a putty knife. Fill the gap that you cut out, so it is smooth and level with the pool's surface, and wait for it to set.
Apply the Putty
Follow the pool repair kit instructions to add epoxy to the polyester putty and apply it on top of the bond with a putty knife. Allow it to dry, sand it down and wipe the area with acetone on a cloth to remove any sanding debris.
Apply the Gel Coat and Fiberglass Cloth
Put masking tape about 2 inches outside the repair area and apply a gel coat with a paint roller to the masked-off area. Put the fiberglass cloth on it while it's still wet, and roll it with a ribbed roller to remove any air bubbles in the cloth. Apply another layer of gel coat and let it dry, then sand it and wipe away the dust with acetone. Apply a coat of sealant and let it dry completely for 2 to 3 days before adding water to the pool.
Find Professional Help for Repairs
Bear in mind that, even with these fiberglass pool repair tips, it is still quite tricky and time-consuming to do pool repairs yourself. It's also hard to get the color to match up with your pool color exactly, and it can make the repaired area more unsightly than before. Fortunately, at Aquaguard 5000, as your pool experts, we have over 30 years of experience in pool remodeling, maintenance, and repairs. Contact us today so we can repair your pool and you can get back to swimming! We are happy to help you with your fiberglass pool needs.