Knowing how to paint a fiberglass pool is an essential skill for any homeowner looking to revitalize their backyard oasis.
The job may appear intimidating, yet with the proper direction and materials, it can be accomplished without difficulty.
In fact, painting your own fiberglass pool can not only save you money on professional services but also give you a sense of accomplishment and pride in maintaining your property.
This process involves choosing suitable paint, preparing the pool surface properly, applying the paint evenly, and then ensuring optimal maintenance so that your freshly painted fiberglass pool continues to look stunning year after year.
Get ready for a pool transformation with AquaGuard 5000! Whether it's your home oasis or a commercial pool, AquaGuard 5000's high-performance finish is here to redefine excellence. Let's dive into the world of resurfacing, refinishing, and repair together. Discover lasting beauty with AquaGuard 5000.
Understanding the Basics of Fiberglass Pool Painting
The act of painting a fiberglass pool is not merely an aesthetic endeavor but also serves as a vital part of its overall maintenance. When carried out with precision and using high-grade pool paint, this process can significantly extend your swimming pool's lifespan.
Epoxy paint stands out among other types due to its remarkable resilience against harsh conditions. It's been observed that with the correct application, epoxy coatings may last for up to 7-8 years or even go beyond 15 if given proper care.
Beyond durability benefits, repainting your fiberglass pools provides them with a much-needed facelift over time. Pools naturally lose their original sheen due to constant exposure to various elements. However, by resurfacing every 15-25 years using top-tier fiberglass pool paints, you can retain that brand-new appearance while ensuring optimal functionality at all times.
"Looking to extend your fiberglass pool's lifespan? Precision painting with high-grade epoxy paint can do the trick. Not only does it add years of durability, but also restores its original sheen."

Gathering Your Pool Painting Supplies
Embarking on a pool painting project requires having the right tools at your disposal. The success of such an endeavor largely depends on proper preparation and material selection.
Selecting Appropriate Paint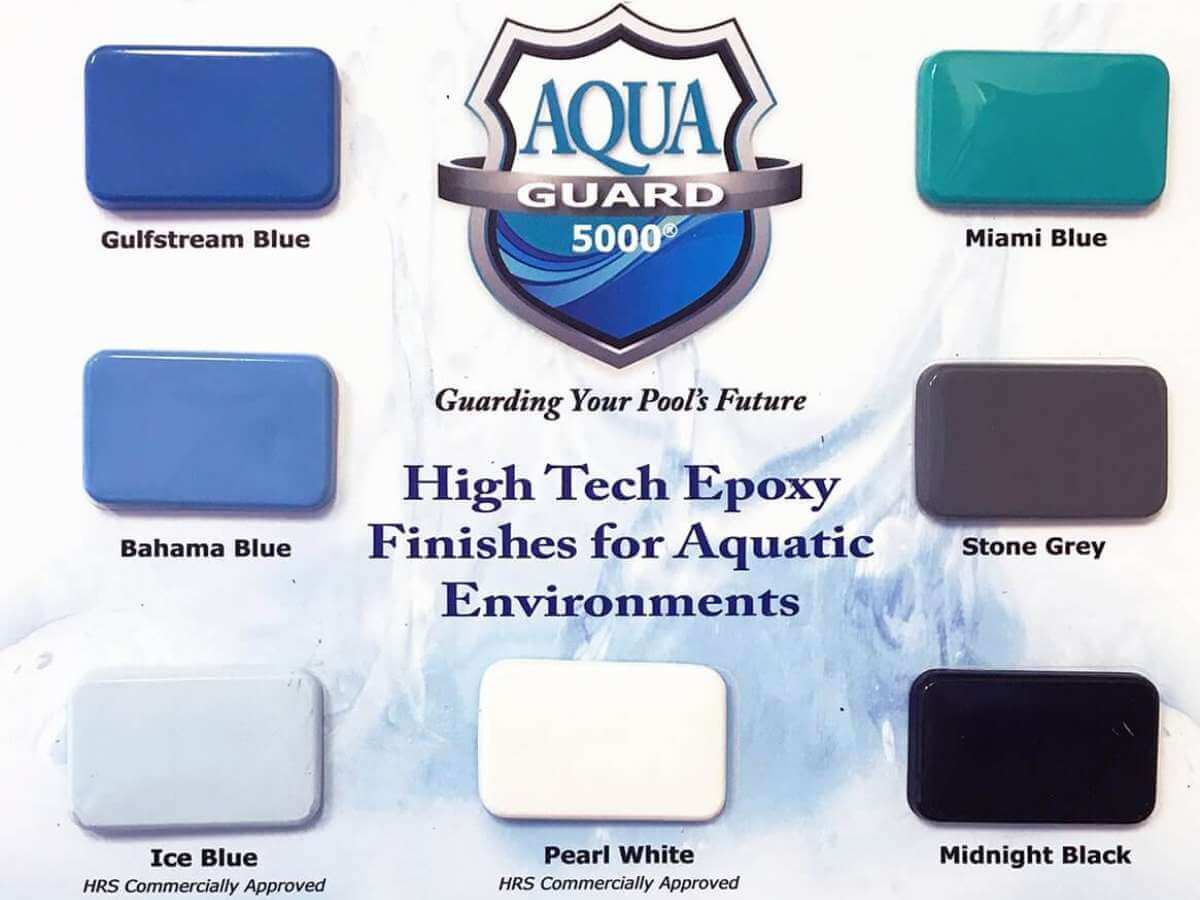 The paint you choose can greatly impact the longevity and aesthetic appeal of your fiberglass pool. Epoxy paints are highly recommended for their resistance to UV rays, harsh pool chemicals, and their ability to provide a glossy finish that enhances the visual appeal of any swimming area.
In addition to choosing high-quality epoxy paints or gel coats, it's equally important to gather other essential supplies before starting the painting process. These include grit sandpaper, which is used to create surface roughness necessary for primer application; scrub brushes for cleaning dirt off pool walls; roller frames with extension poles, ideal for applying large amounts of paint; and masking tape, crucial for precision work around fixtures or edges.
Finding Reliable Suppliers
Purchasing online: Online retailers often offer competitive prices along with customer reviews that can guide decision making.
Local hardware stores: Local suppliers may offer personalized advice based on local climate conditions that can affect product performance.
Specialized sellers: Stores specializing in selling swimming pool accessories usually stock up-to-date products to ensure optimal results.
In essence, adequately preparing by gathering all the required painting supplies will set you on the right path to transforming your fiberglass pool into an inviting oasis.
"Ready to give your fiberglass pool a fresh look? Get the right tools and high-quality epoxy paint for UV resistance, chemical durability, and glossy finish. Preparation is key."
Preparing Your Fiberglass Pool for Painting
In the journey of painting your fiberglass pool, draining it is where you begin. This can be achieved with a submersible pump.
Ensuring Optimal Weather Conditions
The weather must be taken into account for optimal results. It's vital to ensure at least four consecutive days of dry conditions as rain or morning dew could potentially hinder paint adhesion on the fiberglass surface.
Cleaning comes next after draining your pool completely. A mixture of trisodium phosphate and warm water proves effective in removing grease and rust stains from the walls of your swimming pool.
Sanding also forms part of preparation that cannot be overlooked. With sanding brushes, create a rougher texture on the surface area which not only eliminates any remaining dirt but significantly improves paint adhesion when you commence painting.
Drainage using a submersible pump.
Checking forecasted weather conditions.
Cleaning with Trisodium Phosphate solution.
Sanding to enhance adherence.
Applying Epoxy Paint on Your Fiberglass Pool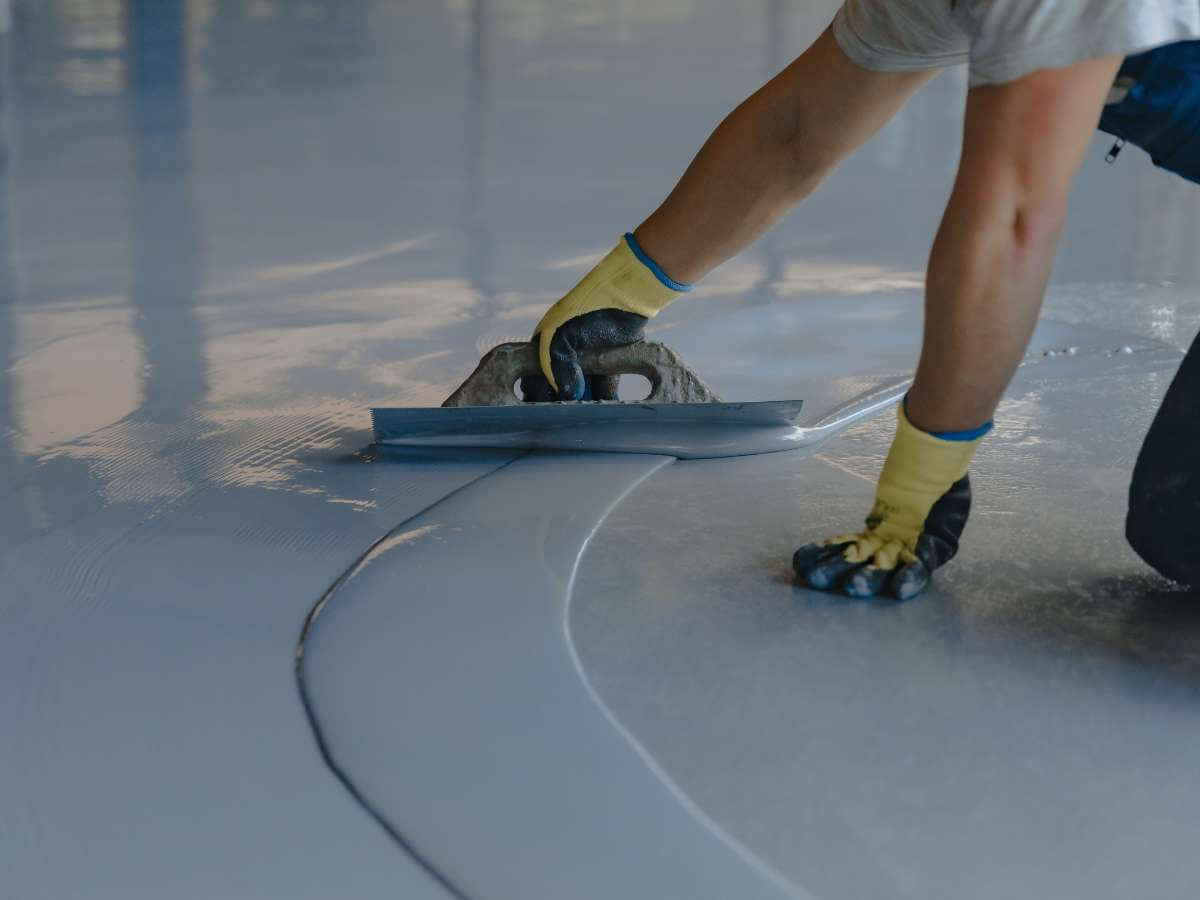 The application of epoxy paint to your fiberglass pool is a process that involves several important steps. The initial step in this procedure is the use of primer, which prepares the surface for subsequent layers of paint.
Tips for Achieving a Smooth Finish
Achieving a smooth finish when painting your pool requires certain techniques and considerations. Firstly, it's essential to utilize long overlapping strokes with your roller during application. This approach ensures an even distribution of paint across the entire surface area.
In addition, repainting over areas that have begun drying should be avoided as it can result in unevenness or streaks appearing on your finished job – not ideal outcomes for painted fiberglass pools aiming for professional-quality results.
After applying one layer of epoxy paint, allow it sufficient time to dry overnight before proceeding with another coat. Giving each layer ample time to adhere properly helps create durable coatings designed specifically for longevity in harsh aquatic environments like swimming pools.
Maintaining patience throughout this intricate process will ultimately yield high-quality results. Those who follow these guidelines closely are sure to find themselves at the helm of beautiful paint jobs suitable even by professional standards.
Refilling and Balancing Your Freshly Painted Pool
The process of pool renovation doesn't end with painting. The next step involves refilling your fiberglass pool, a task that should be undertaken with care to prevent damage to the newly painted surface.
Maintaining Optimal Water Chemistry in Your Newly Painted Pool
Beyond just filling up your swimming pool, maintaining optimal water chemistry is vital for both swimmer comfort and equipment longevity. This requires regular testing and adjusting pH levels using pool test kits, available at local stores or online platforms.
A pH level between 7.4 – 7.6 provides an ideal balance for swimmers' comfort while also protecting against potential harm to the fresh coat of epoxy paint on your pool walls.
Caring For Your Newly Coated Fiberglass Pool
To ensure long-lasting vibrancy and durability of freshly coated surfaces in fiberglass pools, prompt removal of debris is essential as this prevents staining on the glossy finish provided by epoxy paints. Moreover, keeping track of chemical balances post-refill will help maintain overall healthiness within painted pool environments over time.
Common Questions About Painting Fiberglass Pools
The process of painting fiberglass pools often sparks numerous questions among homeowners. One frequently asked query is about the ideal time to repaint pool coping and the overall pool surface.
Epoxy paint, known for its durability, can last anywhere from 7-8 years or even exceed a lifespan of 15 years with proper maintenance. However, if signs such as color fading or chipping appear before this period ends, it might be an indication that your pool requires repainting.
Hiring Professionals vs DIY Approach
Another common concern revolves around whether to hire professionals for the job or undertake a do-it-yourself approach. While professional services ensure precision and expertise in application techniques, many homeowners prefer getting their hands dirty by following detailed guidelines and taking necessary precautions themselves when they decide to repaint pool surfaces.
Selecting Appropriate Paint Designed For Swimming Pools
A crucial factor while painting swimming pools involves choosing high-quality epoxy paints specifically designed for these structures. These paints are engineered to resist the damaging effects of UV rays along with harsh chemicals found in swimming pools while providing a glossy finish that enhances aesthetic appeal.
Tackling Potential Pool Problems Post Repainting
Last but not least comes addressing potential issues post-repainting, such as changes in water chemistry due to improper application methods leading to various kinds of unforeseen pool problems. Regular maintenance involving routine cleaning sessions coupled with consistent pH level checks can mitigate these concerns, ensuring the longevity of your newly coated surface.
FAQs in Relation to How to Paint a Fiberglass Pool
What paint to use on fiberglass pool?

Epoxy paint is the top choice for fiberglass pools due to its durability, resistance to UV rays and chemicals, and longevity.

Can you paint directly over fiberglass?

No. Fiberglass surfaces must be properly prepared with cleaning and sanding before applying primer and epoxy paint.

How do you prepare a fiberglass pool for epoxy paint?

The preparation process involves draining the water, thorough cleaning with tri-sodium phosphate or dishwasher detergent, followed by an acid wash if necessary.

Can you brush a fiberglass pool?

Avoid using harsh brushes on painted fiberglass pools as they can damage the surface. Opt for soft bristle brushes instead.
Conclusion
Mastering how to paint a fiberglass pool can seem like a daunting task.
But with the right tools, materials, and steps in place, it's entirely doable.
The key lies in choosing durable epoxy paint designed for swimming pools and gathering all necessary painting supplies beforehand.
A thorough preparation of your pool surface is crucial – from draining water completely to cleaning with TSP or dishwasher detergent and even performing an acid wash if needed.
The actual painting process involves applying primer as a base coat followed by two coats of epoxy paint using long overlapping strokes. Remember to let each layer dry overnight before proceeding further!
Once painted, refilling your pool slowly while maintaining chemical balance is important. And yes, patience is required before you dive into your newly painted oasis!
Maintenance plays a significant role too – regular cleaning helps extend the lifespan of your new paint job significantly.
Are you ready to make a splash with AquaGuard 5000? Turn your visions of stunning residential and commercial pools into reality. With AquaGuard 5000, you have access to a range of pool paint and top coat options that will elevate your pool's aesthetics. Let your pool radiate brilliance for years to come – reach out today!