Swimming pools provide hours of fun and relaxation for people of all ages, yet their safety remains of utmost concern. Slips and falls pose one risk that must be mitigated against. Pool grip on swimming stair entrances has proven highly effective at mitigating this risk; we will discuss its many advantages here in this section.
Understanding the Risks of Slips and Falls in Swimming Pools
Slips and falls in swimming pools may occur for various reasons, including:
Wet surfaces: Splashes of water, poolside condensation and wet feet can leave surfaces slippery and impermissibly slipperier. 

Improper Maintenance: Lack of proper anti-slip measures or insufficient cleaning can contribute to accidents.

Lack of Awareness: Failure to take appropriate precautions increases the risk of slips and falls.
Accidents involving water can result in serious injuries such as fractures, sprains, head trauma and drowning; thus it is crucial that we address and implement preventative measures against such risks.
What Is Pool Grip? 
Pool grip refers to the application of specially engineered materials on swimming stair entrances in order to increase traction and minimize risks of slips and falls. This may involve non-slip coatings, mats or adhesive treads being utilized as means for providing reliable non-slip surfaces in contact with water, providing reliable non-slip surfaces which will remain non-slip even under wet conditions.
Benefits of Pool Grip on Swimming Stair Entrances
1. Enhanced Traction
Pool grip significantly improves traction and stability on swimming stair entrances. Here's how it helps:
By offering a secure foothold, pool grip allows swimmers to confidently navigate stair entrances, especially when they are wet.
2. Improved Safety
The installation of pool grip on swimming stair entrances contributes to a safer pool environment in multiple ways:
Prevents accidents:

By minimizing the risk of slips and falls, pool grip helps prevent accidents and potential injuries.
Protects all swimmers:

Pool grip ensures the safety of individuals of all ages, including children, the elderly, and those with reduced mobility.
3. Compliance with Safety Regulations
Pool owners have a responsibility to adhere to safety regulations and standards. Pool grip helps in meeting these requirements:
Adheres to codes:

Pool grip materials are designed to comply with safety regulations regarding slip resistance.

Avoids legal issues:

By implementing pool grip, pool owners reduce the risk of legal liabilities in case of accidents.
4. Longevity and Durability
Pool grip materials are designed to withstand the demanding conditions of swimming pool environments:
Resistant to water and chemicals:

Pool grip materials are engineered to resist the effects of constant exposure to water and pool chemicals.

Long-lasting solution:

With their durability, pool grip materials require minimal maintenance and replacement, reducing overall costs.
Choosing the Right Pool Grip Material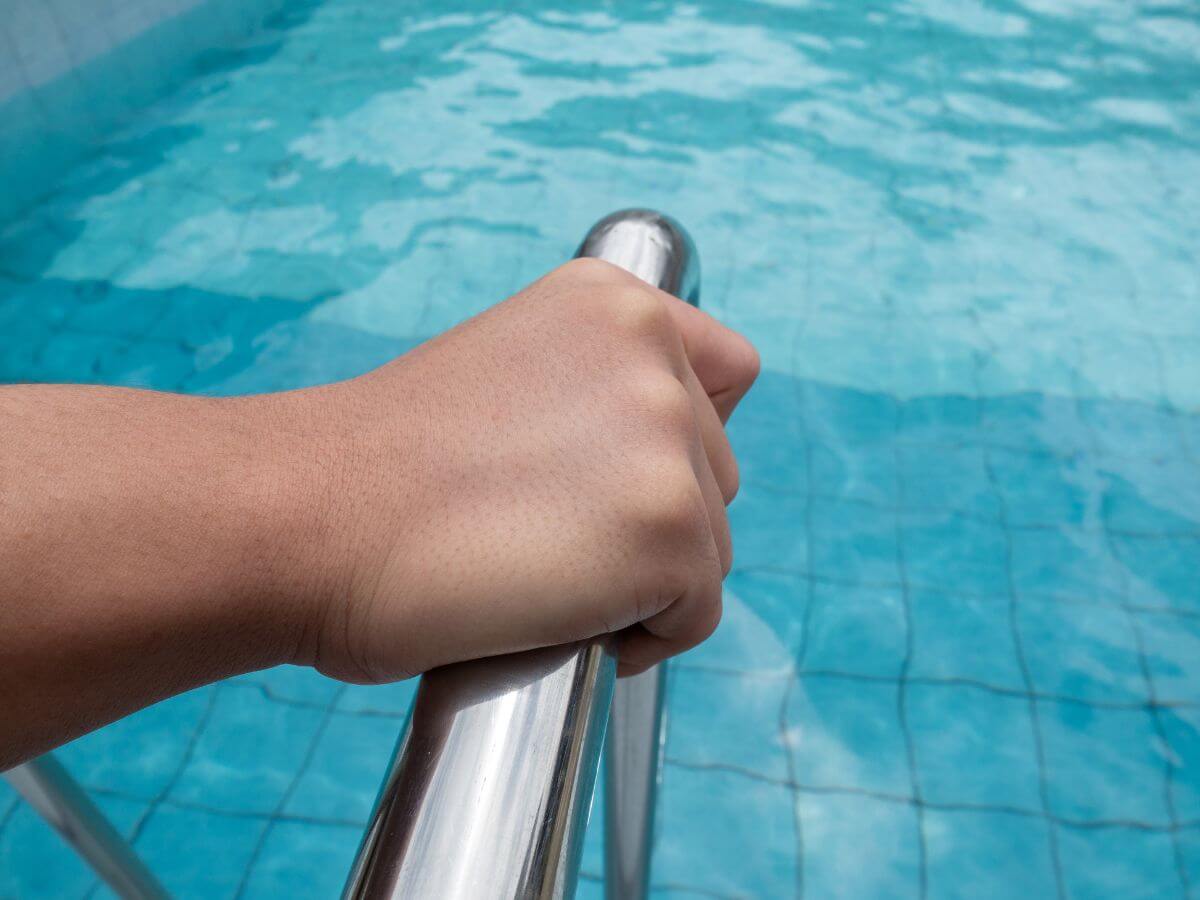 When selecting pool grip materials for swimming stair entrances, it's essential to consider the following factors:
Durability:

Choose materials that can withstand the high traffic and wear associated with pool areas.
Ease of installation:

Opt for materials that are easy to install or can be professionally applied.

Aesthetic appeal:

Select pool grip materials that complement the overall pool design and aesthetics.
Popular options for pool grip materials include rubberized coatings, non-slip tiles, and adhesive treads. Consulting with professionals or experts in the field can provide personalized recommendations based on specific pool requirements.
Maintaining and Replacing Pool Grip
To ensure the effectiveness of pool grip over time, regular maintenance is crucial:
Cleaning:

Regularly clean pool grip materials to remove debris, dirt, and any substances that may affect their non-slip properties.

Proper maintenance:

Follow manufacturer guidelines for maintenance procedures to maximize the lifespan of the pool grip.

Replacement:

Monitor the condition of pool grip materials and replace them when signs of wear, damage, or reduced effectiveness are observed.
Compliance and Safety Regulations
Pool safety regulations vary across regions, but most mandate certain safety standards for public and private pools. Installing pool grip on swimming stair entrances not only enhances safety but also contributes to compliance with these regulations. Pool owners should familiarize themselves with local and national safety standards to ensure their pool areas are up to code. In some jurisdictions, pool owners must adhere to pool guidelines provided by ADA.
Enhance Your Swimming Pool Safety with Premier Pool Grip!
Pool grip is an essential safety feature that significantly reduces the risk of slips and falls on swimming stair entrances. By providing enhanced traction, improving safety, ensuring compliance with regulations, and offering longevity and durability, pool grip plays a vital role in creating a safer swimming environment. Prioritizing safety in swimming pools is crucial, and pool grip should be considered as a proactive measure to prevent accidents and injuries.
Upgrade your swimming pool safety with Aquaguard 5000's premier pool grip! Experience enhanced traction, compliance with regulations, and long-lasting durability. Make safety a priority and prevent accidents and injuries in your swimming pool. Avail the Aquaguard 5000 pool grip now to create a safer swimming environment for everyone.